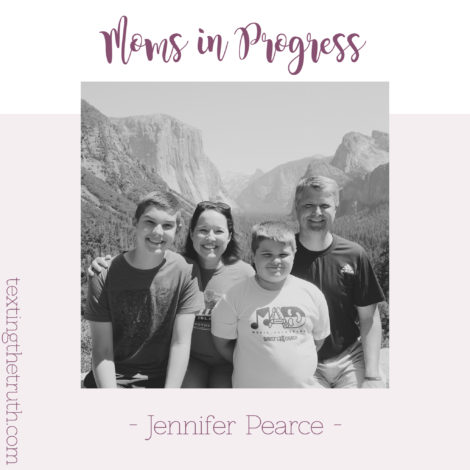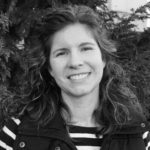 Today we feature my friend, Jennifer.
Hey girl, tell us about your lovely family. Where are you? It doesn't look like the Midwest. 😉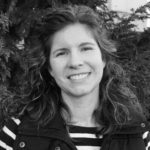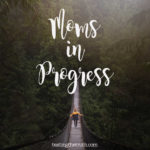 My family took a vacay to California in August. This picture was taken by a random stranger in Yosemite National Park. If Yosemite is not on your bucket list, start over, people! It is spectacular!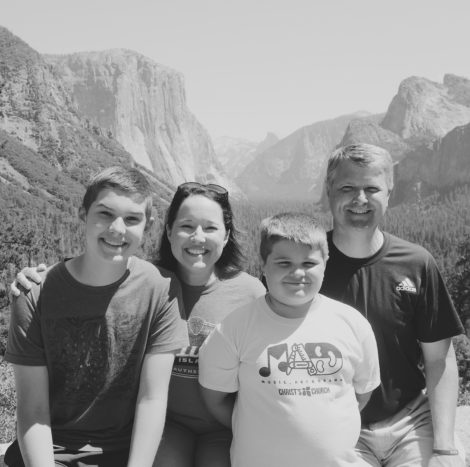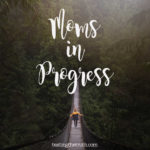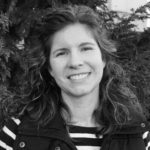 Haha, I'll pencil that in. We do want to go out West sometime; it does look amazing.
Tell us about these handsome young men.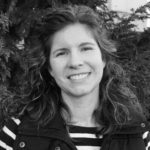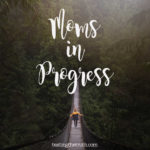 I have 2 boys, ages 13 and 9. Both are playing a sport right now which means I have no life. Ha! I love it though. I love to see them set goals for themselves and achieve them. And learning how to be a part of a team is such a good life skill. I whine about it a lot, but I wouldn't have it any other way.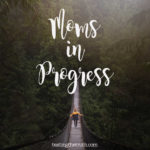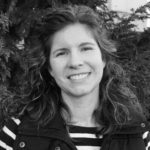 I can relate – I'm not a sports person either. Thank goodness they look cute in those uniforms.
Do you wear any other hats in addition to your [big, gigantic, hugely significant] mom hat?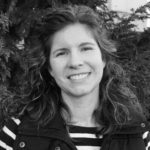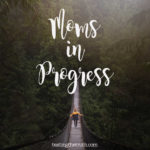 After being a stay-at-home mom for over a decade, I went back to work six months ago. It was a hard adjustment for us all, at first. I've had to become very organized. And I've had to say "no" to a lot of things. I hate saying "no" to people but I have realized that if I don't, I end up saying "no" to my highest priorities.
Fortunately, some very cool things have happened in the transition. My boys have really stepped up, and I love the responsibility that has been birthed from it. I'm not sure it would have happened otherwise. I also think I come home a happier mom because I have something for me during the day.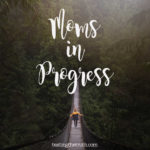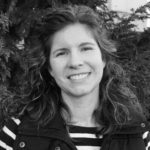 That's great to hear you have your own thing. I think some stay at home moms are afraid to invest in themselves but participating in an interest outside the home can be rewarding and have a positive impact on the family. Good for you!
What is your favorite book, podcast, or blog?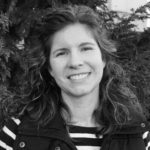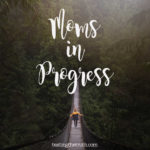 I just love Bob Goff. I just got to hear him speak in person for the first time last week. His books are must reads. I like his podcast too. I like The Holderness Family podcast. They have kids similar ages to mine, and they talk about family and marriage in hilarious ways. Jennie Allen's Made For This podcast is great too.
I read two strange books last month: Nine Perfect Strangers and The Farm. They were both a little dark. I feel like I need something light and fun now. Any suggestions?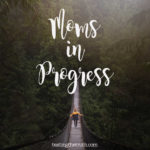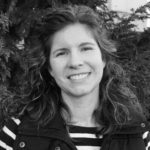 I have heard of Goff; he's big on loving others. Dark subjects can be fun, especially at this time of year. And, actually, we do have suggestions. Check out our Treasured Products page. 😉
What is your favorite mom product?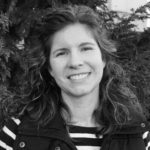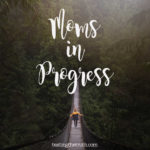 I don't know if this counts, but I'm obsessed with my iRobot Roomba vacuum. Obsessed as in, I named him. "Rodney" vacuums for me everyday. I don't even have to ask him. And he goes back to his little charging station when he's done. My house has never been cleaner. I'm IN LOVE!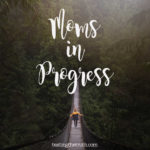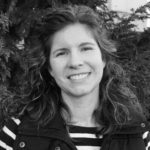 Anything that makes our lives easier totally counts! Lol. I might need my own "Rodney" and Christmas is coming soon…..
Speaking of easy, what is the last thing you made for dinner or your favorite simple meal to throw together?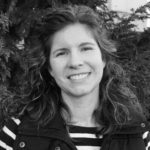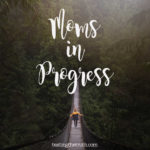 Ok, well first, get yourself an Instapot. Like now. They are practically giving them away now at Kohl's and Costco. I love mine! My go-to dinner when I'm running late and we are starving is Teriyaki Chicken for the Instapot. I can put the chicken in frozen if I forgot to thaw. I throw it over brown rice. Do you buy the cooked brown rice that is frozen, and you just put it in the microwave to heat for 2 min? No? Add that to your grocery list now! I'll wait. Oh, girl. And if you are not taking advantage of a Kroger Click List or the like, you are bananas. Yes, they charge a $5 convenience fee, but come on, I throw at least $15 of stuff I didn't need in the cart anyway when I'm in the store!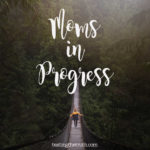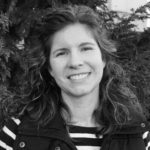 #Truth right there! You're giving us quite the to-do list, Jennifer. Thanks for all of your suggestions!
We've chatted enough for me to know your life isn't always smooth sailing. Would you share a recent experience that has challenged your mothering?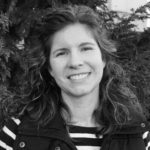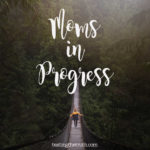 Technology. I wish I had a magic wand to figure out how to set reasonable boundaries while still allowing my kid to connect with others in meaningful and appropriate ways, while also protecting them from all the garbage that is out there.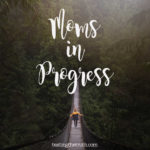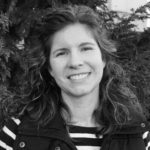 There seems to be a lot of gray area with technology. I'm sure you're in good company. What has God been teaching you through this challenge?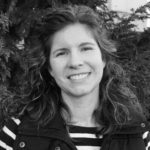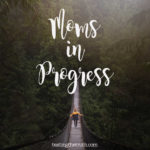 God has been showing me that I'm setting a bad example! Why am I looking at my phone first thing in the morning? Why is it the last thing I do before bed? I can't help my kids if I have a problem myself!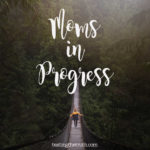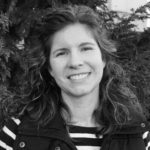 Guilty here, too!
What is the funniest thing your kids have said or done recently?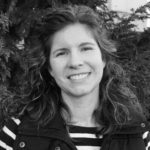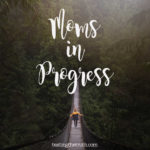 My son's name is "Stuart." A few weeks ago he was practicing his cursive, and I noticed he was spelling his name "Stewart." He told me, "It's fine, Mom. There is more than one way to spell my name. This one is easier in cursive." I just had to laugh.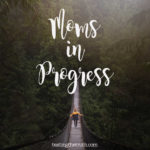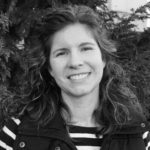 Haha! He's such a character.
Do you have any general words of encouragement for other moms in the trenches like you?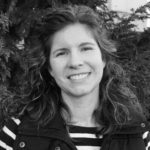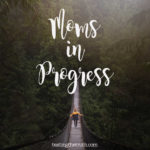 You are doing a great job. Your kids are so lucky to have you. We need to stop being our own worst enemy. Sure, we are going to mess up on some things, but you are doing so many things right. Keep up the good work.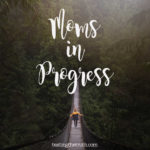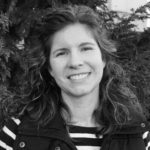 I completely agree – let go of the guilt and "keep on swimming!"
Do you have anything else you would like to add?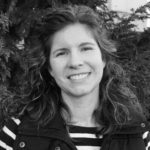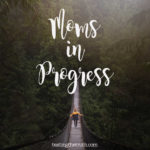 I'm so glad we finally have some Fall weather! Bring on the boots and sweaters and pumpkin spice everything. I'm ready!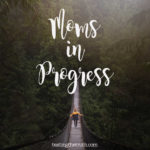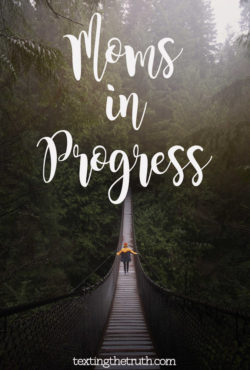 Do you have a story to tell? Would you like to be featured in a future Moms in Progress post? Just click here and answer a few questions to share the details of your story. We will do the rest!