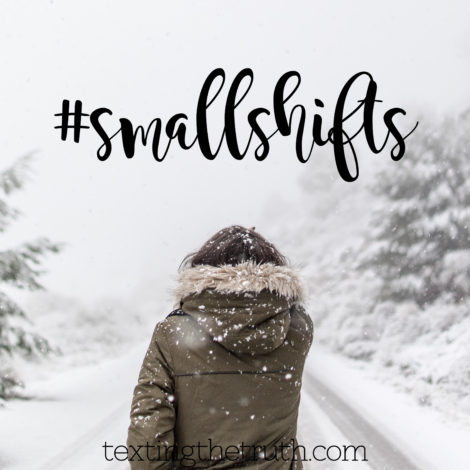 The TtT Blog Team is happy to begin a new theme today called #smallshifts! Whether you have followed us since the beginning or are new to our feed and our blog, we wanted to take a minute to express how this theme is at the heart of who we are.
The moms of #textingthetruthblog are committed to our mission of working out the ups and downs of motherhood with one another.  As our tagline states we are #RealMoms and we are desperately trying to live out #RealGrace with one another and with you. And as you all know, motherhood is not for the faint of heart and there are a lot of mistakes made along the way.
I don't know about you.  I have big plans to be a good mom.  Some days I think I'm doing ok. A lot of days (if I let myself think about it) I just don't know how I'm doing.  And on a lot of other days, I know I'm failing. I guess it's sort of a cycle. Try hard. Do ok for a bit. Fail. Repeat.
BUT (and this is a pretty great BUT, hence the all caps), that cycle does not have to be on repeat.  We have the wonderful GRACE from God that interrupts that cycle of trying and failing. We have a God who promises to be with us and get us through to a fullness that is outside of our own striving and our own failing.
Did you hear that?  Fullness. Abundance.  And it isn't because of me and my striving.  Fullness is not perfection. It is not always easy.  It is not always fun. Fullness is a promise of life.  And sometimes to get there, God asks us to shift some things around to find the promise He wants us to have.  The work is real. But the reward is REAL too.
So we are asking God to help us make some small shifts in some practical areas of life to find His real grace.  And the best part? He's going to be right there with me. With you. With our families. He's the one that can help to see us through.  Join us as we make some #smallshifts together.
?Laura
P.S. Stay tuned for the first text conversation about #smallshifts tomorrow!