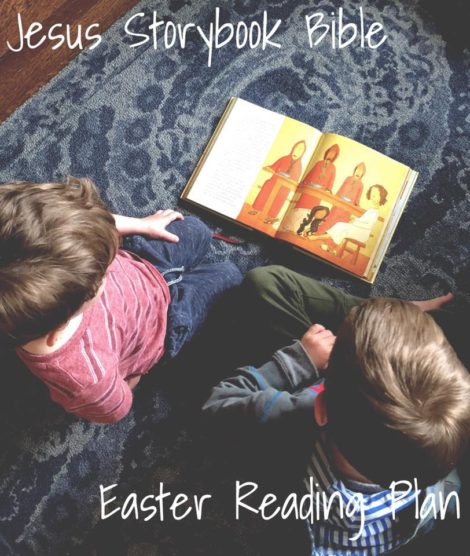 Back when my first son was born, a friend gifted us with the Jesus Storybook Bible. Since then, I've lost count of how many times we've cycled through its stories ?. They are as life-giving to me, as an adult, as they are to my boys, and the vibrant illustrations bring the characters to life.
With Easter approaching on Sunday, we take a small detour from the chronological readings we do every evening and follow a reading plan that corresponds with Easter/Lent. It is a sweet way to usher our hearts into Good Friday and Resurrection Sunday ?⛪?. There are a number of wonderful reading plans found on Pinterest, but my favorite comes directly from the author, SallyLloydJones' website.
An added bonus about this reading plan is that you can pair it with any of the Easter activities that we've highlighted this week (i.e. Resurrection Rolls, Resurrection Eggs, Easter Box, etc.). Or, you can simply read the stories and allow extra time for conversation and prayer?. It's relevant for kids/youth of any age. And if you have a range of ages, involve the older kids in planning a fun activity to correspond with each day's reading ?. I'm telling you, you can't go wrong with the #JesusStorybookBible. ?
Don't have a Jesus Storybook Bible at home? Spend time reading Mark 14:1-16:20 with your family, which includes many of the same narratives, including the woman who anointed Jesus; the Lord's Supper; and Jesus' prayer in the Garden of Gethsemane. While the language may be less contemporary and there won't be illustrations, it is still a great springboard for meaningful conversations with your kids as you prepare your hearts for Easter 
.
Praying this is a most meaningful Easter week for you and yours, 
 Emily