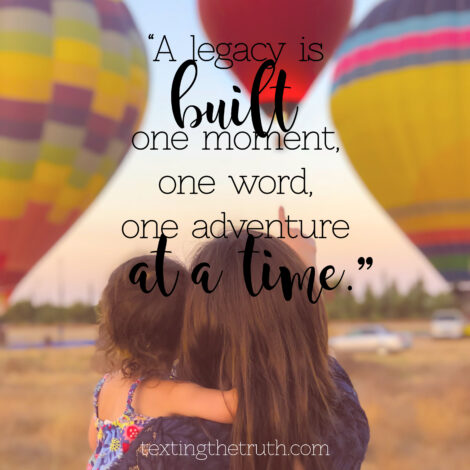 As I reflect on motherhood, I can't help but remember my own childhood. It was rather idyllic and mostly happy. My parents did their best to give my sister and I the opportunity to "turn out right." And today is my dad's birthday. He would've been 64. He probably would have gray hair and wrinkles. Only he's frozen in my mind at 49, dark hair and laughing eyes. The way he looked when he went to heaven almost 15 years ago. 
He profoundly influenced my life, the way I think and the way I look at the world around me. It got me thinking– what kind of legacy am I going to leave for my children when I am gone? My dad's legacy was a good one. A godly one. One I am thankful for as I raise my own kids. He wasn't perfect. No legacy is perfect. I remember my dad apologizing to our family when he lost his temper or was impatient from time to time. But in that, he showed us how to own our mistakes and ask for forgiveness. Even in failure, he was teaching us good things. 
But how do I leave behind sweet memories and a good heritage? A legacy is built one moment, one word, one adventure at a time. And like it or not, a legacy is inevitable. I'll either leave a good one or a bad one. 
I think the legacy my dad left (and the same one I want to leave for my kids) comes down to two things– loving God and loving people. If I can do those two things, I've nailed it. Of course, no one can love God and love people perfectly, but I have to start somewhere.
The Bible goes so far as to tell me to love God with my whole heart, soul and mind. Is that even possible? Yes, I think so. Otherwise God wouldn't have told us to do it. When my kids exclaim, "I can't…" I always remind them that I will never ask them to do something they cannot do. I think God is the same way. He doesn't ask me to do something that He won't give me the strength to accomplish. 
I'm also called to love others as I love myself. But sometimes I can't even figure out how to go a week without losing my cool with one of my own kids!! How am I supposed to love the whole world?! 
What if I begin to love my husband and my children with a supernatural love? Forgiving them, showing them grace, extending patience, giving them the gift of my time and attention. That's a pretty good place to start. One good thing at a time. And sometimes, I'll mess up. But that's ok. God's grace is bigger than my mistakes. His love can cover a whole lot of my mess- ups. And someday, my kids will hopefully be handed the legacy of a mom who loved God and loved people to the best of her ability, one moment at a time. 
?Janelle

Scripture to encourage you:
"And He said to me, "My grace is sufficient for you, for My strength is made perfect in weakness." Therefore most gladly I will rather boast in my infirmities, that the power of Christ may rest upon me." (

II Corinthians‬ ‭12:9‬) ‭

"Jesus said to him, " 'You shall love the LORD your God with all your heart, with all your soul, and with all your mind.' This is the first and great commandment. And the second is like it: 'You shall love your neighbor as yourself.'" (

‭‭Matthew‬ ‭22:37-39)
Music to inspire you: