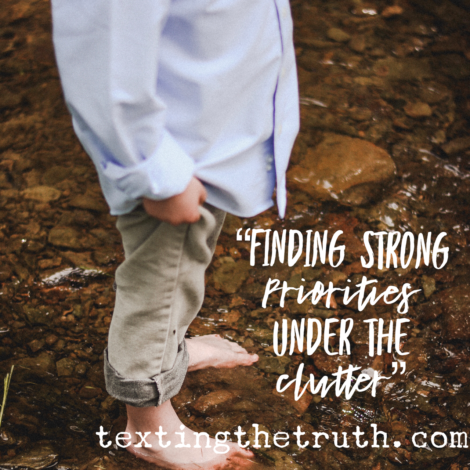 I tend to think in metaphors and analogies.  This spring, my life felt like a river. A smooth rolling river with shady spots created by tree roots and rock formations along the waterway.  An idea or intention that I wanted to act upon would fall into my river and linger in the shady spot, protected by the rocks and tree roots, lingering in a temporary timelessness.  
The ongoing responsibilities of life rushed for my attention–meal planning, homeschooling, cooking, cleaning, reading to the kids, laundry, family time, church and ministry commitments.  But for a few weeks, I would keep seeing the same "leaf" floating in my river. A leaf such as "send a baby shower gift" or "read about that parenting issue that keeps coming up".
With all my heart, I would want to find the time and energy to accomplish that special task that was above and beyond the daily grind.  
Sometimes it was an opportunity to invest in a relationship through an act of kindness.  But before I knew it, the opportunity had passed. I missed it.
Other times it was a task to accomplish that now felt unfeasible because new tasks were lining up behind it.  The leaf would break free and float on. The priority would float out of my mind because something new needed the space.  
I guess there is a fluidity to some of my priorities.  Opportunities that float in and out of my life. I need to have the margin to act upon them.  
There has been one BIG LEAF lying in my river for a while and it represented a huge project in my house that I wanted to undertake.  I wanted to purge and declutter the house and I just couldn't seem to make any progress in the weekly pockets of time.
But my husband and I were able to work on it together for 5 days while the kids were with the grandparents and I want to share a little of what I learned from the process and how it is helping me zero in on strong priorities.  
Why do you want to declutter?  In The Life-Changing Magic of Tidying Up by Marie Kondo, I was challenged to know why I was tidying up the house.  What did I hope this would accomplish? What did I want my home and life to be like at the end of this project?  Or as leadership guru Stephen Covey famously said, "Begin With the End In Mind."
For me, I wanted to be less stressed by the amount of stuff in our house and I wanted to simplify the workload of tidying and cleaning so that I could enjoy my family more.  
I wanted it to be easier to find and put away the items we store in our basement.  And atmosphere is really important to me, so I also wanted our home to have a more peaceful, welcoming atmosphere both for us and visitors.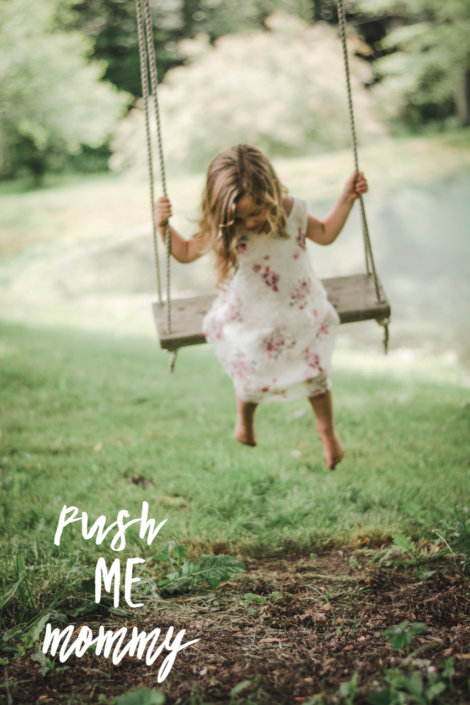 The definition of minimalism.  Minimalism is the term being used in a wide variety of ways to  describe what many of us mean when we say we want to "purge" or "declutter" our houses.  In his book The More of Less: Finding the Life You Want Under Everything You Own, Joshua Becker clarifies that minimalism does not mean a scarce, stark, modern style home with uncomfortable furnishings and nothing lovely.  Leave that form of minimalism to certain forms of architecture and interior design. Becker definines minimalism as "the intentional promotion of the things we most value and the removal of anything that distracts us from them" (p. 18, The More of Less).
That's what I want.  I want to promote the priorities that really matter to me.  I want to have strong priorities. I want to accomplish the things that really matter to me and let go of things that are distracting me or getting in my way.  
But how will I know what I should get rid of?  My mind would always go to the hardest categories–my books, my hobby/craft items and my sentimental items.   
It's a heuristic (learn-as-you-go) process.  Becker emphasizes that the process of minimizing will help you discover your own personal version of minimalism based on your dreams, passions and purposes, which often lie buried underneath the possessions we are busy managing.  
Similar to Kondo, Becker explains that knowing why you want to minimize will help you make decisions about what to keep and what to discard.  And the process of minimizing will help clarify what your true priorities are and how you can elevate them.
For me, I was able to let go of a lot of hobby/craft items because during the past year God keeps affirming that He made me to be a writer.  I want to find more time to write, not do certain hobbies and crafts. I chose to keep the tools needed for these hobbies so that when the time is right, I can pick them again.
I got rid of a lot of fabric, but I kept my sewing machine and clarified why I was keeping it.  I want to continue to learn to do basic sewing projects like the burp cloths and lovey blankets my sister taught me how to make the year I got my sewing machine.  I absolutely love giving homemade gifts. Several people have had babies in the past two years and didn't receive a homemade lovey blanket or burp cloth from me.
And my 7-year-old daughter has asked me to teach her to sew several times!  Although I don't feel like a sewing whiz, she would eat up the time working on a project together.  This is a priority that's been buried in my basement. I want to strengthen it and give it my time and attention.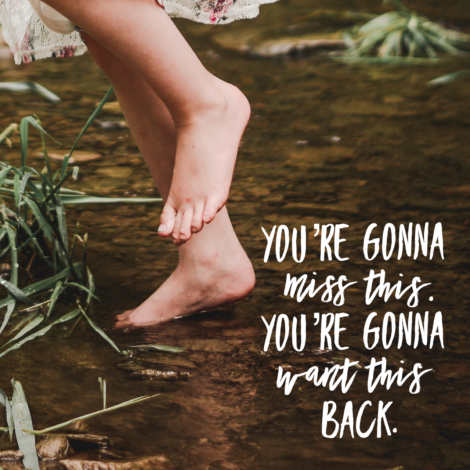 I got rid of some expectations by purging my DIY decorating supplies.  I realized I was holding on to these items without any plan to use them in the near future.  
During other decluttering sessions, I would always see the value in them (financially and creatively) and continue to hold on to them.  
Going through this purging process reminded me that a few years ago, I actually resented my young children for keeping me from accomplishing creative DIY projects.  
I thought my role as a mom was robbing me of accomplishing these things.  But it's the other way around. These items and the expectation to be a creative and thrifty home decorator and organizer have been robbing me of focusing on the strong priority of loving the little years with my kids.  Years of cuteness and wonder that will quickly drift into big kid and teen years.
The craft stores and garage sales will be there for me when I actually do need to do a DIY project again.  But for now, I was excited to clear out some physical space in my basement and a lot of mental space in my mind.
Don't stress over where it goes.  I wanted to get rid of a lot of items in a short amount of time because our church was having a garage sale as a fundraiser.  I was excited that my week of purging lined up with the sale and I could donate so many useful items to raise money for the building project.  
When my husband and his friend loaded up a trailer and two large vehicles to take to the church sale, it was actually raining cats and dogs.  We were hours away from the deadline for getting stuff to the sale so we couldn't wait.
My heart sank with discouragement.  Would things get so damaged that they would not sell?  Would our items need to be hauled away to dumpster after the sale?  I sent all our old rags to dry stuff off as it was carried inside.
When my husband got home from the water soaked haul, he made the joke that God was crying with me as I saw all my stuff being hauled away.  I adamantly said, "No," because I had already talked to God about it and sensed a very different symbolism from the rain.  
"It's just stuff," I heard God whisper. "And you are not responsible for what happens to it now.  You can't control if it finds use or finds its way to a landfill."  
God was showing me that He is far more in control than I am as the rain poured down on all that stuff.  I'm not in control of it. And it's just stuff. It's going to rot, decay or burn some day in some way. It's not going to last forever.    
The process of getting rid of so much stuff has helped me to begin thinking twice before I buy something.  From the smallest consumable item to larger purchases. Even if I enjoy using something for a long time, it's going to end up in a landfill one day.  Do I really want to invest my time and energy filling landfills? I've started asking myself new questions. And I'm realizing this desire to declutter is taking me down new paths of self-discovery.    
My first trip to Target after the purge proved to be a good test.  Every aisle end cap was full of clearance items that seemed too good to pass up.  A funny pillowcase. (Wait. Although we will soon need plain pillowcases, we have enough silly kids' pillowcases.)  A cute shower curtain. (Ours is just fine, I'm not planning to redecorate the bathroom.) Cotton balls. (Naw. I'm a "fold-up-a-tissue" kind of girl.)  
Then it dawned on me, God, you are testing me?  You want me to know if I am really committed to living differently, to not just decluttering but de-owning–choosing to purchase less.  
Well, game on.  Let's get out of this store without a receipt and the light-hearted freedom that comes from knowing I was looking for one item, Target didn't have it, and I left without buying anything else.  Mission accomplished.  
Fewer pillowcases to wash, fold and store.  No shower curtain to start an unnecessary redecorating project.  No cotton balls to lose track of in my closet. More time and resources to make memories with hubby and my kiddos.  Because she won't be asking me to teach her to sew forever.    
~Courtnee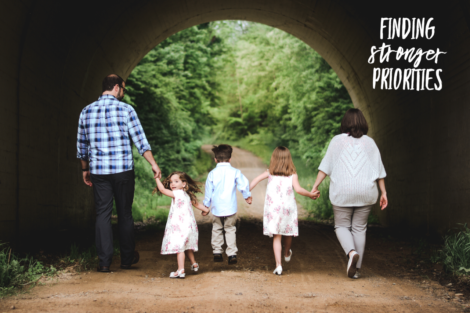 Soaking in the Truth
Scripture to encourage you:
Matthew 6:19-21 (New Living Translation) "Don't store up treasures here on earth, where moths eat them and rust destroys them, and where thieves break in and steal. Store your treasures in heaven, where moths and rust cannot destroy, and thieves do not break in and steal. Wherever your treasure is, there the desires of your heart will also be."
__________________________________________________________________________________________________
Music to Inspire:
Since most everyone would say family is one of their top priorities, I couldn't help but include a few songs that remind me to keep my family as a strong priority.  
Country music disclaimer: Whatever you think of country music, you have to admit, it can cut straight to the heart of what life is all about.  
"You're Gonna Miss This" by Trace Adkins
"Don't Blink" by Kenney Chesney
"Where the Green Grass Grows" by Tim McGraw
__________________________________________________________________________________________________
Reading and Resources:
I highly recommend Joshua Becker's book The More of Less: Finding the Life You Want Under Everything You Own as well as his weekly blog posts from Becoming Minimalist.  Most of the recent blog posts I read were by guest writers and I was introduced to a whole subculture of people who are thinking and writing about living a simpler life and how it is impacting their true priorities.
This blog post The Four Monkeys of Materialism  helped me identify traps that lead to accumulating more than I need and having a hard time letting go of what I already have.
This blog post Not So Simple Living helped me think about the MORE that I want to take hold of in my own life with my husband and children.   Rachelle Crawford blogs about how to apply minimalism principles to mom life at Abundant Life With Less.  
Clutter Free with Kids by Joshua Becker is also a great read, but everyone who writes about minimalism emphasizes to start with your own stuff first.
The Minimalist Home by Joshua Becker comes out December 2018.  Becker has avoided giving people detailed advice on what to minimize because it is so personal to how God has gifted and called each person to live out their priorities.  In The Minimalist Home, Becker "both offers practical guidelines for simplifying our lifestyle at home and addresses underlying issues that contribute to over-accumulation in the first place. The purpose is not just to create a more inviting living space. It's also to turn our life's HQ–our home–into a launching pad for a more fulfilling and productive life in the world."