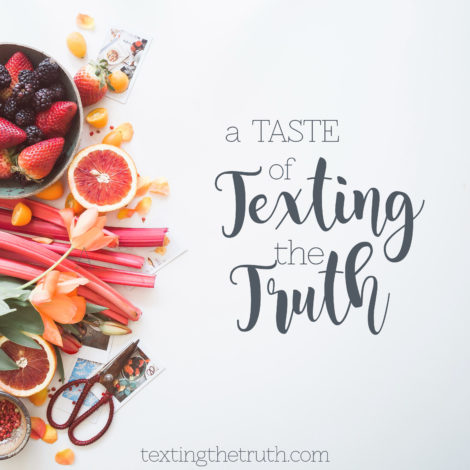 It's fall. And the fall routine is in full swing. That means packing lunches for picking eaters and making dinner (again) even when it seems no one wants to touch let alone eat what you made. It can be exhausting to ensure our kids eat. I have met a child or two who will eat anything. If you are the mother of that type of child, then you'll like everything we have to offer over the next few weeks. If you are the mother of one or two or three (or more) picky eaters, then we offer these recipes as the real moms that we try to be, offering real grace to you who tries, like we do, to keep her children nourished despite all of the that-is-going-to-be-yucky-isn't-it? faces our little dears throw our way. So while we are not typically a recipe blog, we are offering our subscribers some recipes and our honest reflections on who really eats the food we try to make. If you want a full .pdf with the recipes found here on the blog and some additional recipes and reflections, please subscribe! You're recipe file will be sent to you in a couple weeks. So until we resume our regular "texting programing," we give you "A Taste of Texting the Truth."
The Recipes:
Roasted Crock Pot Chicken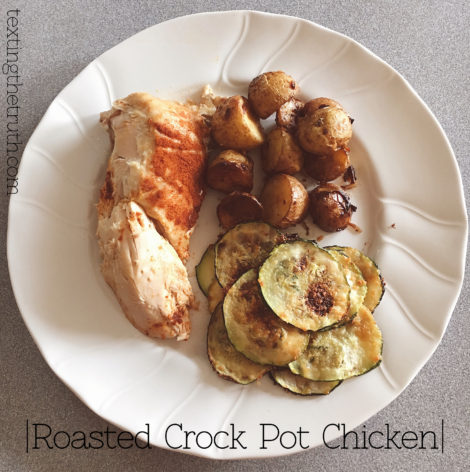 Menu Item: Roasted Crock Pot Chicken
Category: Main Course
Servings: 4-6 (depending on the size of the chicken)
Time to Prep: 5 minutes
Time to Cook: 4-6 hours on high; 6-8 hours on low
Contributor: Laura via her sister-in-law who probably found it somewhere else
Ingredients:
1 whole chicken

2-4 Tablespoons Paprika
Directions: Step By Step
Prepare the Crock Pot.

Prepare the chicken by removing any parts you don't what to cook and place the chicken in the Crock Pot, breast side up.

Sprinkle the Paprika over the chicken.  (I coat it pretty well over the whole top.)

Set the Crock Pot to High or Low and cook accordingly.

Check the temperature of the chicken before you serve.
Comments: My husband requested chicken again.  But that's ok because this is the easiest of easy main course meals.  As long as I set a reminder on my phone to help me remember to put it in the crockpot!  BUT it isn't the whole meal, obviously. However with a little salt or a dipping bowl of ketchup, everyone of my picky eaters can eat this, and I can customize their sides to what they will eat in addition to this (apple slices, cucumber slices, roasted zucchini chips (pictured), onion roasted potatoes (also pictured), rice, couscous, whatever. If you want the recipes for the zucchini chips and onion potatoes, just subscribe, they will be in the pdf file that will be emailed to all our subscribers!  
Plus if you are really motivated, you can keep the bones and drippings of the chicken right in the crockpot after serving this and add a few carrots, celery, and onion and 8 cups of water.  Cook on low all night and you have yourself some broth in the morning. But let's be honest… we might have homemade soup broth once a year!
Zucchini Boats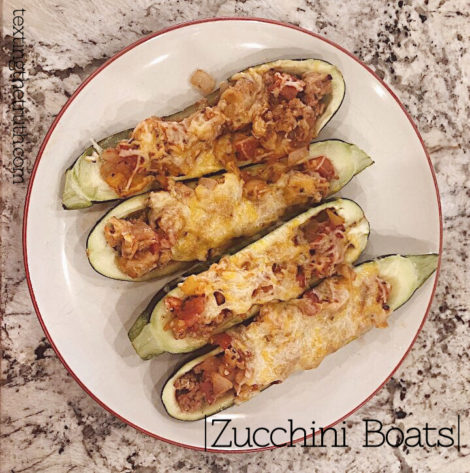 Menu Item: Zucchini Boats
Category: main course
Servings: 4+
Time to Prep: 20 min
Time to Cook: 45 min
Contributor: Michelle Warner 
Ingredients:
4 zucchini or yellow squash (I actually do more just to extend the recipe.)

1 teaspoon olive oil

1/2 cup onion, diced

1 pepper, diced (if you're short on time, Trader Joe's has frozen peppers already cut up which I have used before.)

1 clove garlic, minced

2 tablespoons tomato paste

1 pound ground turkey (We think beef gives this more flavor but I did make with turkey this time.)

1 teaspoon Italian seasoning

1/4 teaspoon kosher salt

1 15 ounce can diced tomatoes

1/4 cup parmesan cheese, shredded

1/2 cup mozzarella cheese, shredded

chopped basil for serving (optional)
Directions: Step By Step
Preheat oven to 400 degrees. Cut the zucchini and squash in half lengthwise and remove seeds and some of the flesh using a metal spoon. (I use a grapefruit spoon.) Set aside. (I cut the zucchini flesh up and add it into the boats for more veggies. 🙂

Heat oil in a skillet over medium heat. 

Add in the onion and cook until softened, about 2-3 minutes. 

Add the pepper and cook. 

Add in garlic and tomato paste and cook for another minute. 

Push the onion mixture to the sides of the pan and add in the ground turkey, breaking up with a spoon. 

Add in salt and Italian seasoning, and cook until meat is brown, about 8 minutes. 

Pour in the canned tomatoes (undrained) and simmer on low for 3-4 minutes until thickened. 

Stir in the parmesan. (I made this Whole30 compliant so did not add the cheese.)

Fill the zucchini/squash cavities using the ground turkey mixture. Place in a large baking pan and top with mozzarella. Cover with foil and bake for 30 minutes. Remove foil and bake for another 5 minutes. Let sit 5 minutes before serving. 
Comments:
I haven't been an all-star cook in our house the last several months. We have eaten out or eaten pizza far more times than I care to admit. So I decided once we got back into school, I was going to do a Whole30 (clean eating plan) to reset my eating habits (less ice cream, more veggies). And I knew if I committed to this, I would have to commit to actually cooking meals at home.
Enter in zucchini boats. My girls are pretty picky but they like this one! And my husband does too! It makes me feel good that we are all eating a healthy dinner. I usually make a side of pasta for my youngest to go with it but that also extends the recipe a bit too. 
I found this recipe at https://thisdelicioushouse.com/stuffed-zucchini-boats/ on Pinterest and tweaked it slightly. But Angela at This Delicious House gets the credit. 🙂
Stir Fry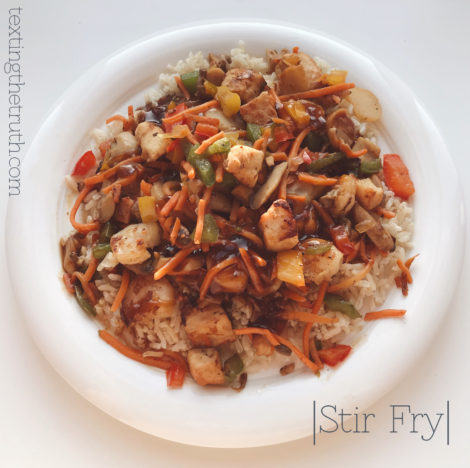 Menu Item: Stir Fry
Category: Main Course
Servings:  6-8
Time to Prep: 15 minutes
Time to Cook: 15 minutes
Contributor: Jen
Ingredients:
2 cups uncooked rice 

3 cups water

¼ cup extra virgin olive oil

Desired Protein – At our house we use:

¾ cup diced chicken (fresh or frozen)

¾ cup shrimp (fresh or frozen)

Desired Vegetables – Our favorites:

½ diced yellow pepper

½ diced red pepper

½ diced green pepper

½ onion diced

½ cup shredded carrots

1 can water chestnuts

1 can mushroom slices (can also use fresh)

Your favorite stir-fry sauce

We like the House of Tsang brand, their Classic and Szechuan Spicy flavors
Directions: Step By Step
Prepare rice as indicated on package, or using a rice cooker (ours cooks 2 cups of rice in 3 cups of water in about 30 minutes). 

Determine your proteins. If using frozen items, allow time for thawing. If fresh, cook meat to your preference and cut into bite-sized pieces.

Cut/dice your vegetables and set aside.

Locate your Wok pan or a large skillet for cooking and set the stovetop to HIGH.

Pour half of the olive oil into the bottom of your Wok pan.

If using a seafood item, like shrimp, wash and remove the tails before adding them to the Wok.

Once meat is cooked to preference and shrimp turn pink, add all of the diced veggies you prepared.

Add the rest of your olive oil, salt, and pepper, and mix well. 

Allow 3-5 minutes for your vegetables to soften and flavors to meld together.

Serve and enjoy! Keep components separate for unending flexibility with leftovers.
Comments: 
Stir fry is a staple recipe in our family and an easy go-to when we need to clean out the fridge before the veggies go bad, or when want to throw together a healthy dinner last-minute. Let's be honest: Frozen, ready-made proteins are my best friend most weeknights, and they work perfectly in this recipe! While our stir-fry cooks, I dice up the remaining halves of our vegetables and put them in the freezer for next stir-fry night – two meals in one! If I don't have many fresh vegetables, I can usually supplement with canned. I have some picky vegetable eaters on my hands, the pickiest of them all being my husband. When served on a bed of rice and coated with their favorite stir-fry sauce, I can actually get my boys to eat most of the vegetables they normally wouldn't consider. My son loves to see which colors of the rainbow he can find in his meal –  last stir-fry night we were only missing blue and purple (our wheels are turning already!) To make things even easier, keep all of your components separate – rice, protein/veggie mixture, sauces. That way, each member of the family has the freedom to portion out components in the proportions they like best, and my husband – who loves anything and everything spicy – can enjoy his Spicy Szechuan sauce while the rest of us opt for a milder flavor. Furthermore, with the components stored separately, we have the freedom to throw leftover meat/veggie mixture into a quick quesadilla or use as toppings on pizza. This is one recipe that you can customize to your family with unending possibilities – if only life could always be so flexible!
Superfood Bowl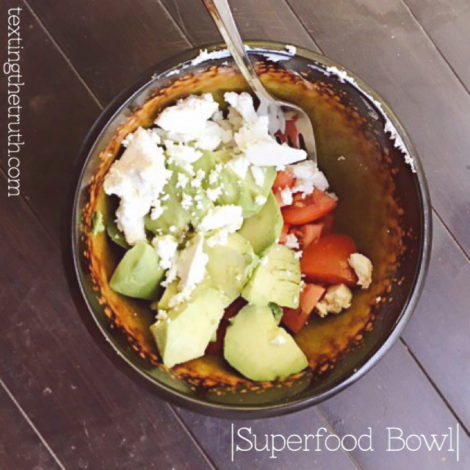 Menu Item: Semi-Superfood bowl
Category: Salad
Servings: 1
Time to Prep: 10 minutes
Time to Cook: 0 minutes
Contributor: Virginia Forste
Recipe by me 
Ingredients:
1 ripe avocado, peeled

2 small tomatoes

¼ cup goat cheese

1-2 T olive oil

Salt and pepper, to taste

Drizzle of balsamic glaze (optional)
Directions: 
Wash and chop tomato. 

Peel and cut avocado.

Spoon out a portion of goat cheese. 

Mix tomato, avocado and goat cheese in a bowl. Top with olive oil and salt and pepper. 

Drizzle on balsamic glaze if you are into that. (I'm very into that but I forgot to add it before taking the picture.)
Comments: Listen Moms, I don't really cook. I was little anxious when we decided to this recipe sharing thing. My only thought, "Great, now I have to actually make something so I can share it." ?  I can follow a recipe to a certain extent but for a long time my family usually lived by the eating style of "hunter/gatherer." ????? 
In my defense I used to be a teacher so I think I would wing it in the meal department because I simply had to plan everything else. ?
Here you see I am using the word 'recipe' loosely. I see it as giving you an idea of something healthy to make for yourself that won't use electricity (see how I'm saving you money, too?) and takes almost no prep or mental energy, because do you even have any of the latter at the end of the day? Didn't think so. 
I like to say that I eat from the lap of luxury. ? Since I try to avoid bread, pasta and white potatoes, I often don't like the typical foods my kiddos will eat like macaroni and cheese, spaghetti, mashed potatoes and hot dogs in buns. Wouldn't you rather have a "semi -super"food bowl than 3 ½ cold chicken nuggets at 6:35pm? I would. 
So you may wonder, where are my kids in all of this? Well, my 4 year old has a similar palate so she's always requesting a bite of goat cheese. My 5 year old son won't try it. He's cool with his hot dog. So they don't eat it. Good – more for me! (Hey, I put in my time with broccoli and Brussels sprouts and bean sprouts and plenty of hot dogs!)
Chili Mac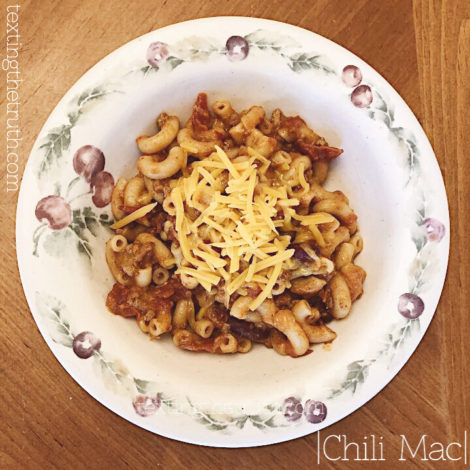 Menu Item: Chili Mac in the Crock Pot
Category: Main Course
Servings: 8
Time to Prep: 10 minutes
Time to Cook: 6-8 hours in the crock pot, plus 10 more minutes after
Contributor: Anna Brink
Original Recipe by: Slow Cooker Gourmet @slowcookergourmet.net 
Ingredients:
1 pound ground turkey

15 oz can light red kidney beans, drained and rinsed

28 oz can diced tomatoes

28 oz can tomato sauce

3-4 tablespoons chili powder

2 teaspoons cumin

1 teaspoon garlic powder

1 teaspoon salt

6-8 oz small macaroni pasta

2 tablespoons butter

2 tablespoons flour

1 ½ cups milk

1 cup shredded colby or cheddar cheese

More cheese for topping, as desired
Directions: Step By Step
Brown ground turkey in skillet over medium high heat.

Transfer to crock pot. Turn on low.

Add beans, tomatoes, tomato sauce, and seasoning. Stir.

Cover and cook on low for 6-8 hours (or 3-4 hours on high).

Later… Cook the pasta "al dente" as directed on the package. Drain and add to crock pot. 

Melt butter in a saucepan over medium high heat.

Whisk in flour.

Slowly pour in milk while whisking. Continue to whisk as it simmers for 3-4 minutes.

Stir in cheese until smooth. Remove from heat.

Pour into crock pot and stir to combine everything.
Comments: I've been trying new crock pot recipes lately, mainly because I'm preparing to start a job that gets me home around 6:15, and I want to have dinner already made! The trick is finding the recipes that my family will eat.? I have 3 children and a husband. They are all fairly picky. My husband and son will humor me by trying almost anything I cook, but the girls usually will NOT — especially my 7-year old. She pretty much survives on yogurt and plain pasta.?
I found this Chili Mac recipe on Pinterest under "Kid-Friendly Slow Cooker Dinners," which sounded promising. And first of all, I will say that I personally liked this recipe.? I did tweak it here and there (i.e. less pasta and more tomato sauce; also it needed salt, so I added that). This would be the perfect dish to bring to a football party or picnic, as it is very filling and would feed at least 8 people (more if you're not taking a full bowl).?
HOW IT WENT OVER: As promised, we are Texting the TRUTH, so here it is. My husband liked it okay. He added a lot of shredded cheese on top, and he also suggested doubling the meat next time. (He is a real meat-and-potatoes kind of guy.) I liked it the best of everyone but wished it had less pasta (thus, I cut down the pasta amount in my recipe above). The kids just stared at it like it was boiled octopus.? My youngest whined, "Didn't you make any PLAIN pasta?" My son said, "Don't you know I don't like chili?" And my oldest daughter went straight for the fridge. After begging them to try it, they did. My son said it was "good but I don't want to eat any more."? They all filled up on plain pasta with cheese on top and fruit on the side.? 
So… I'll hang onto this recipe for a potluck, but it won't go into my family's dinner queue. Bummer. But — onto the next recipe!
Want More Recipes?
To subscribe please add your email address to the box under Stay Connected and then click "Join the Fun!" (If you are reading on a computer its on the right sidebar, and if you are reading on your phone, scroll down to just below the the blog posts.) We send one email a week, and we've been told that they are great reminder to catch up on anything you may have missed on blog. We'd love to have you as part of our #realmomsrealgrace community.