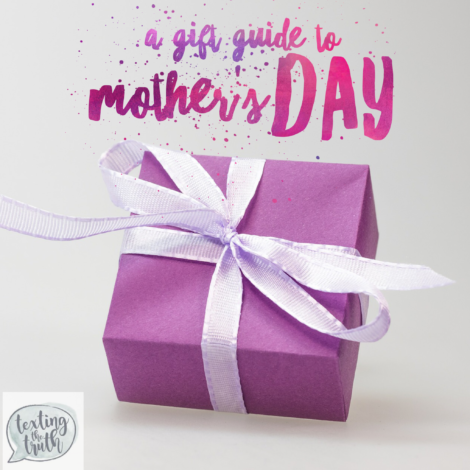 Need some last minute gift ideas for the mothers in your life?
We compiled a list of our favorite things to help you out!
***
Personalized Tumbler with Straw: Cute and practical all wrapped up in one.
The Greatest Showman DVD: When folding laundry and need a pick-me-up!
Beautiful Photo Clip Frame: To remind your mom how much you love her.
Q and A a Day for Moms: When you don't have time to journal but want to remember these full years.
Mom Keychain: A little bling and love on her keys.
***
Hard Candy Lip Gloss: When you need a little something extra and don't have time for make-up!
Ultra-Moisturizing Hand Cream: This is 1/2 price if you buy it in the store, but it's a great hand cream to keep in your purse/diaper bag
Moroccanoil Moisture Shampoo: I love this shampoo especially if you need to add more moisture to your hair.
EO French Lavender Body Oil:  My favorite oil that I think heals all.
Serenity Oil: Because mom needs a little serenity between temper tantrums!
***
Alex and Ani Bracelet: I have an Alex and Ani bracelet for each of my boy's initials, and they have always been one of my favorite gifts. I wear them whenever I'm away and feel like I have them with me.
***
The Magic of Motherhood: An encouraging book about motherhood that makes you feel less alone in the hard stuff.
***
Instant Pot: When you're short on time to cook but know you need to get something on the table.
Cafe Escape Variety Keurig K Cups:  For those mornings you want to feel like you're at a coffee house.
Magnolia Table: A Collection of Recipes for Gathering:  If your mom loves Joanna Gaines as much as we do, this cookbook will be a winner.
***
Sueded Leopard-Print Moccasins: These shoes are cute and go with pretty much anything.
Fashion Backpack:The backpack purse is my new favorite thing! Keeps your hands free and looks cute.
Flowy Wrap Cardigan: When you need to throw something on but want to look a little trendy at the same time!
***
Gardening Gloves: Cute and practical at the same time for the garden lover.
Gardening Gloves for Kids: Although not for moms, they still are if you want your kids to not have dirt under their nails for two weeks after the gardening day!
***
Birkenstock Sandals: These comfy sandals are on my wish list.
IRobot Roomba: A pricier gift option but a huge lifesaver for moms with constantly messy floors.
***
Echo Dot:  The echo dot is pretty awesome. I ask Alexa for everything – weather, news, music, recipes, etc. She also sets our alarm before we leave the house.
Rechargeable Wireless Headphones:  For when Mommy needs a moment of silence and your child wants to play a game, read an e-book, or watch a favorite show.
***
What would you add to this list?
For more Gift Ideas, check out our Treasured Products page!
Also, just so you're aware – many of these links above are affiliate links and we receive a small compensation for you clicking on them. 🙂 For more information, click here.