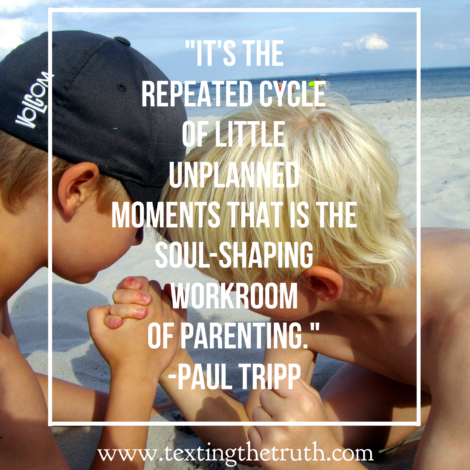 "Do your kids always fight like this?"
Gulp. ??
This was a question I was asked last week by another mom while my family was at family camp. (Ironic, right?!)  
I didn't know how to respond. ?
"Well…ummmm…yeah…I mean, not always, but they do have more than their fair share of conflict." ?
It was a humbling mom moment for me.  Because while I am well aware of my kids' relational shortcomings, it feels vulnerable when other people also notice.  
At a very surface level, I want my kids to put their best face forward when other people are watching.  I want to give the appearance that we are a close-knit family, and that as a parent, I am doing a sufficient job of training them up. ??
But what about their hearts?  What is ultimately underneath the conflict they experience?  If I'm honest, it boils down to one word….SIN.
I know.  It's not fun to think about little people as sinful, but they are. And until they understand Grace in the person of Jesus Christ, their sin will divide. ?
What they do understand at their age is law.  Right and wrong. Black and white. His fault, her fault.  Important stepping stones towards Grace, but insufficient alone.   
So how can I be tilling the soil of their hearts in these looooonnnnggg summer days? What seeds can I plant while they are under my care and teaching, that the Holy Spirit can water once they come to an understanding of real Grace? What can I do to create an environment of growth, for their own bond to form?
For our family this summer, we are striving to create Godly rhythms and patterns around conflict: Seeking forgiveness, showing repentance, displaying empathy, and encouraging our children to go directly to one another with their hurts and frustrations.  These rhythms go both ways too; they require that I model them in my own moments of conflict, and that I consistently foster them between my kids.  
Sounds like a relaxing summer break, doesn't it?
But let me also say, if you are in a season of sibling/family harmony in your home, praise God. ?  We are all walking through some challenge as parents, and I'm reminded that it doesn't have to mirror another family's in order for us to gain encouragement from each other.  We (parents) all have the opportunity to become, what Paul Tripp refers to as, "ambassadors":
These parents have come to understand that parenting sinners will expose them…they have come to accept the humbling messiness of the job God has called them to do.  And they understand that if their children grow and mature in life and godliness, they become not so much the trophies, but trophies of the Savior that they have sought to serve.  For them, it's God who does the work and God who gets the glory; they are just gratified that they were able to be the tools that God used. -Paul Tripp, Parenting
Much love mamas!  ❤ Emily

Soaking in the Truth
Scripture to encourage you:
"Put on then, as God's chosen ones, holy and beloved, compassionate hearts, kindness, humility, meekness, and patience, bearing with one another and, if one has a complaint against another, forgiving each other; as the Lord has forgiven you, so you also must forgive.  And above all these put on love, which binds everything together in perfect harmony. And let the peace of Christ rule in your hearts, to which indeed you were called in one body." (Colossians 3:12-15)

"Therefore, since we have been justified by faith, we have peace with God through our Lord Jesus Christ.  Through him we have also obtained access by faith into this grace in which we stand, and we rejoiced in hope of the glory of God. Not only that, but we rejoice in our sufferings, knowing that suffering produces endurance, and endurance produces character, and character produces hope, and hope does not put us to shame, because God's love has been poured into our hearts through the Holy Spirit who has been given to us." (Romans 5:1-5)
Music to inspire you:
Readings and Resources to come alongside of you:
Related Posts on Texting The Truth:

Living Out the Truth
Ideas to try:
Share a high/low at dinner each night or at the end of the day.  This can help finish even the most challenging of days on a positive note, and give kids the opportunity to process a tough moment(s).

In a moment of sibling conflict, give each child the opportunity to share their perspective on the situation. This can help kids begin to understand another point-of-view.   
{These suggestions are ideas from novice moms. Sometimes our life situations need more. In that case, seeking out professional help is the right call.}