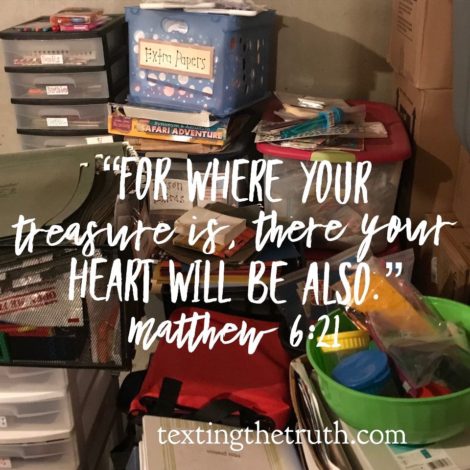 Three years ago, I reluctantly left my spot by our boys' bedsides (in the NICU they called home) and made my way over to the school where I'd taught for the previous 8 years (my second home). But on that afternoon, there was no lesson planning or tidying up for the days to come. Instead, my husband and I began the process of methodically removing every piece of the classroom I'd worked so hard to create.  I would not be returning to teach the following school year, and the time had come to prepare my classroom for the next person who might fill it with love and learning.
It's amazing how much stuff you can accumulate in 8 years. Slowly but surely, my former classroom was relocated into our basement storage space. At the time, it felt like a piece of my heart was thrown right into that pile, alongside all of the other items now shoved into a corner.
Courtnee's de-cluttering post this week reminded me of the lesson God has been working through my heart since then. To me, that pile is a tangible reminder of the many ways our lives have been turned upside down – and with that, too often, comes the heartache of missing a "shelved" passion, fear, and doubt.
More recently, though, I'm learning that the treasure is not so much in the physical stuff as it is the heart stuff. By holding on to my first classroom, in all of its entirety, am I really giving my heart over to God and trusting His control for my future?
Perhaps, what God is now placing on my heart – through a lot of prayer and patience – is confidence in knowing that having too much (of anything) clutters our path. What if, by letting go of some of the stuff, I'm not only freeing up physical space, but mental and emotional space as well?
I do believe I'll teach again. In fact, I just renewed my teaching license. It may not look exactly the same as it did before, but neither does my heart.
He's leading me with purpose, if only I can remember to clear the clutter.
"For where your treasure is, there your heart will be also."  Matthew 6:21
?    Jen
_