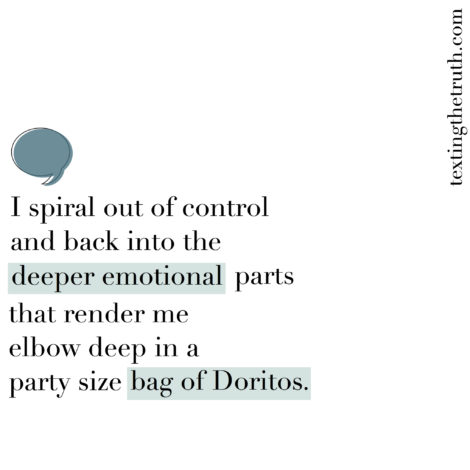 In this week's post, Cupcake Comfort, Jen and Virginia break down how hard it is to maintain self-control when we want to stuff our emotions with food. My path with this is dark and treacherous, so I am right there with them. They write, "It can be so frustrating to have to battle the same issue again and again. I can't help but think, 'Aren't we over this one yet, God? I thought I dealt with all of that. Am I just not strong enough?'" ?‍♀️ Why do we put pressure to strong-arm ourselves into self-control at all times? Spoiler alert: we can't.
The world likes to oversimplify this tricky business. Has anyone else noticed how most metaphors for weight loss, fitness, and diet have to do with some kind of big finish: the caterpillar turns into a butterfly, the ugly duckling morphs into a swan, or the seed sprouts ? into a beautiful bloom??‍♀️ The bloom, the swan, and the butterfly all symbolize these precious products, but they are not human. The human body's journey is ever-more complex; a mother's body is it's own beautiful sojourn. Mamas, what if we stopped comparing our human bodies to butterflies and blooms?? ? 
I am truly not strong enough to maintain self control 100% of the time, because (unlike seeds and caterpillars) I experience anxiety.? I spiral out of control and back into the deeper emotional parts that render me elbow deep in a party size bag of Doritos. I need a good cry sometimes, and Carrie Underwood was right: I cannot cry pretty either. But, I also believe He is strong ? when we are weak, and we are all in this together as we learn to love ourselves unconditionally. When I start eating feelings, there are times I can catch myself and pray right in the middle of my binge. It helps me stop before I get deep in the dark place. Sometimes I have to pray the verse Hebrews 12:1-3 out loud. If I can't Google it exactly, I repeat the phrases "Throw off this sin that so easily entangles" and "Fix your eyes on Jesus."   
Mamas, I had to seek medical and emotional professional help in 2017 to make real change with my health, so I do not want anyone reading this post to think I was able to just pray my way to my best self. I also want to tell you this — I have lost 110 pounds and now I've uncovered a whole deeper layer of control issues in my heart. See? Not. A. Butterfly.??‍??‍♀️  All that being said, I am still OUT THERE this summer in my swimmy, because I am not going to waste one more moment wallowing in my insecurity when there are sand castles to be built, snacks to be handed out, and floats to spin and splash around in with my son and hubby. I pray you don't miss out on any moments in the sun, Mamas.☀️ You are beautiful and fully loved. ?Jo
PS: The last part of the NIV version of that verse talks about how Jesus endured opposition and scorned shame. The shame is the hardest part for me, but I want to scorn it — Jesus didn't go to the cross just for me to walk around as a Debbie Downer Christian.? I pray we can endure opposition to our goals, so we can be healthy examples for our kids and confident for our husbands.