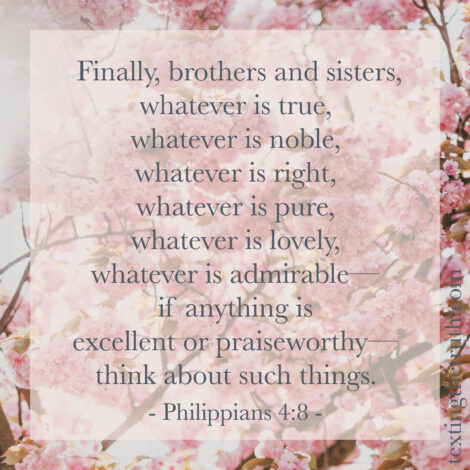 How can we focus our hearts and minds on whatever is lovely?  Is anything excellent right now? Is anything praiseworthy? 
In these uncharted waters of a global pandemic that has gone on for over a month now of quarantine, we can get bogged down in our personal pet peeves and stress.  Many mamas are so worried about work and safety, they are in a constant state of hypervigilance. I am not sure if you have experienced a loved one contracting Coronavirus or worse, losing their life to the virus, but if you have, the TtT extends our deep love and prayers. 
This past week, I have experienced death that is not Corona-related, but the way we have to grieve the loss of these special people makes me ache.  For all of you who have lost loved ones NOT Corona-related during the time of social distancing, self isolating, and quarantine, we also extend our prayers to you.  Can you imagine having to make a guest list for a funeral, like a wedding, and having to feel as though you may exclude someone who deeply loved the deceased? I cannot imagine how hard that must be. Drive by visitations seem so insufficient.  The online guestbooks and Amazon Prime are so nice in times like this, but they still feel impersonal. 
Simply put, the only way I know how to survive is to focus on whatever. Whatever is praiseworthy, as Paul writes.  Any other focus feels heavy to me.  So, in honor of those we know who have suffered with Coronavirus or those who have lost loved ones or their lives recently, why not collectively thank God for the "lovely" in the midst of our mess? 
Here is a start on a Gratitude List from our writers with what we are trying to enjoy and think about rather than despair: 
Trampolines

Sunshine

Naps 

Hugs from kids

Bubble baths with the door locked

90s boy bands

Exercise 

Marco Polos with Friends 

Literally not rushing off to the next thing 

Hallmark Movies 

The Today Show 

Candles 

Laughter 

Amazon.com 
What are you thankful for right now, Mamas?
Hugs from Jo
Resources to Come Alongside You 
Finding God in the Midst of Crisis – Home Training Lesson 
Truth to Inhale
Scripture:
Read the Bible… Anywhere, any time you get!
Other Resources:
Don't try to find them…. Just read the Bible
As all pediatricians tell new moms: Stop Googling it, mom!
Feeling Safe and Stuck at Home at the Same Time from Parent Cue
Finding God in the Midst of Crisis – Home Training Lesson 
Songs to encourage you: 
Seriously almost any Christian Song applies to this!  Just listen to worship music whenever possible.  Put it on in the background of your life.
Here are two to start with on Youtube: 
Goodness of God – Jenn Johnson 
Mighty to Save – Laura Story 
Truth to Exhale
Just keep Praying, just keep praying… Just keep praying, praying, praying.?