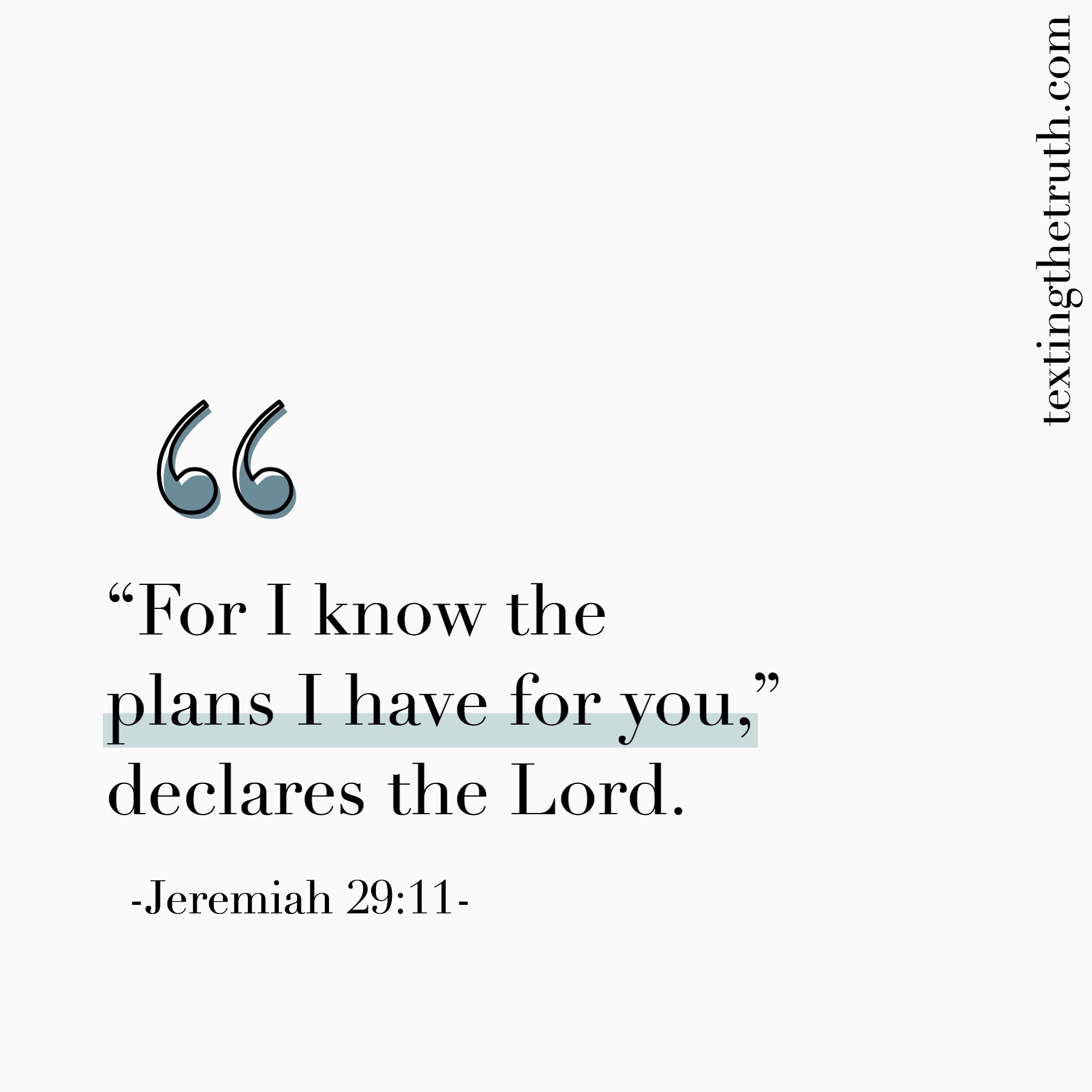 We've all had Fall 2020 on our minds…more than usual. It's like summer got skipped over. Don't get me wrong — it's already been a LONG summer. But with almost everything cancelled, my mind turned to September the second school ended. Questions swirl in my mind like a tornado — what will work look like with this Covid pandemic continuing? How about school, sports, church, holidays?
But in an unpredictable situation like this one, I'm spinning my wheels. The "right" decisions seem "mostly right" at best because I don't know what the future will be. So I hold my breath and wait for things to go back to normal.
I woke up feeling very tense one morning recently, so unsure and almost angry. I decided to just sit and pray about it… God, how am I supposed to make plans right now? I don't know what you want me to do. And then Jeremiah 29:11 popped into my mind – "For I know the plans I have for you," declares the Lord, "plans to prosper you and not to harm you, plans to give you hope and a future."
‭‭I opened my Bible and looked at the whole chapter, wondering, who was God talking to at the time? And what I found stunned me. 
God's people, the Israelites, had just been exiled from Jerusalem (their home) to Babylon (a foreign city). They didn't want to be there, and they didn't know how long they would have to stay there. At the very least they felt stuck — kind-of how we feel with this Covid thing. 
But God sent them a message through a prophet. He told them: "Build houses and settle down; plant gardens and eat what they produce. Marry and have sons and daughters; find wives for your sons and give your daughters in marriage, so that they too may have sons and daughters. Increase in number there; do not decrease. Also, seek the peace and prosperity of the city to which I have carried you into exile. Pray to the Lord for it, because if it prospers, you too will prosper," ‭‭Jeremiah‬ ‭29:5-7‬ (‭NIV).
‬‬God told them essentially to plant themselves there and continue on with living life! Focus on peace and prosperity there, rather than hating where you are. Don't sit and fret and wait to go back to normalcy in Jerusalem. (And spoiler alert, it'll be 70 years before He sends them back.)
And I realized that like the Israelites, I feel like I'm in a foreign place right now, and I've just been waiting to live life until everything goes back to "normal." But I felt like God was saying, "Stop putting life on pause. Live life fully today. Here, in this place. Stop wishing it away. You can still live and love here."
Moms, no matter what choices you make for your family this fall, the most important thing is that you are still fully showing up for life. Stop wishing everything away. We don't know how long we will be here. (Dear Lord, please let it be less than 70 years!) But here we are, in this place. We can still live fully here, even if it looks really different.
Put your roots down into this season and let God decide when to end this chapter of the story. He sees us. He knows we're here. And he has GOOD plans for us.
Love you, Moms.
?Anna