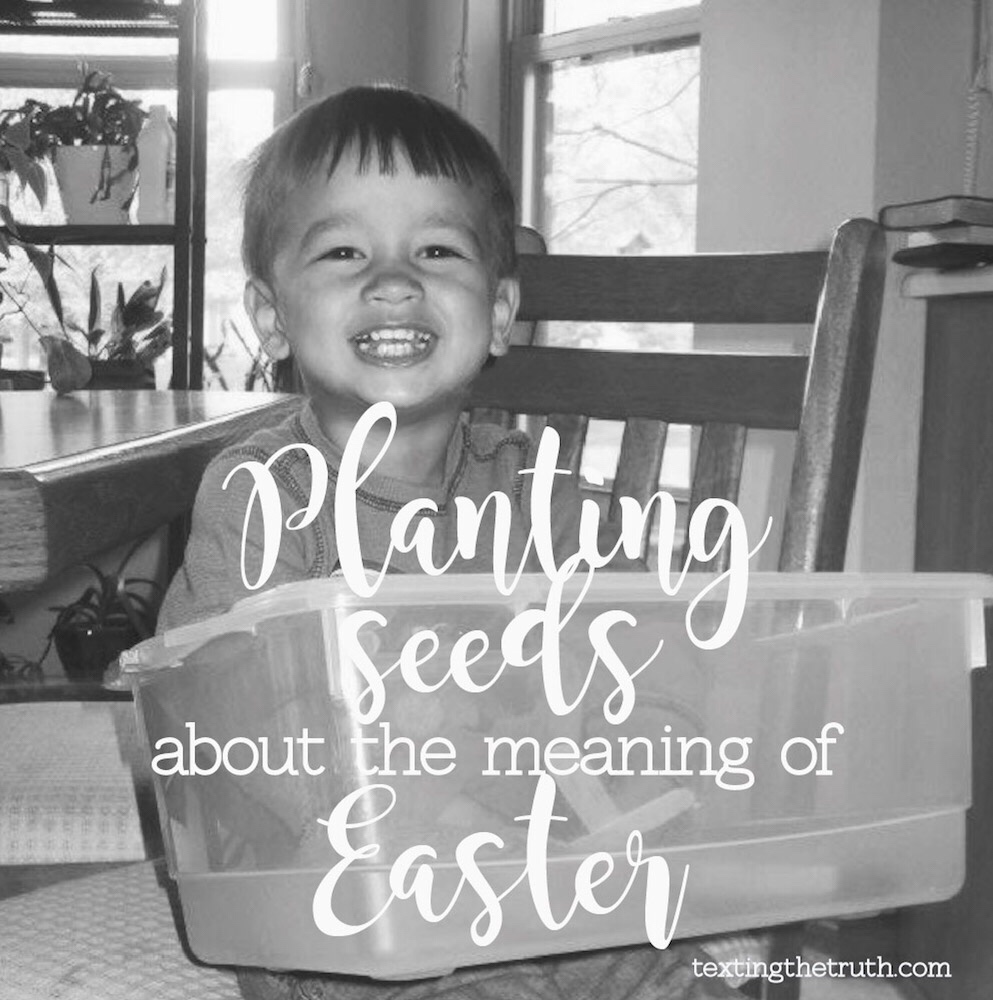 Six years ago, I started a simple little Easter tradition at our house. My oldest son had just turned two and I was very pregnant (and nauseous!? and exhausted!?) with my second. I felt like everywhere I turned, I was hearing and reading about other people's amazingly creative and artistically beautiful plans to teach their kids about Easter.
I was intimidated by those ideas, didn't think I had the energy or ability to pull them off, and wasn't convinced my son would even understand the significance of Easter anyway.? So, I made up my own super simple and easy project.
I picked a different short story to read from a children's Bible every day during the week leading up to Easter. After reading, I put a little object to represent that story into a plain old plastic bin. I left the bin out where my son could reach it. He looked through, played with, and talked about the objects whenever he wanted throughout the week. We called this our Easter Box.
Over the years, we've carried on our Easter Box tradition, although it hasn't looked exactly the same every time. Last year I had all four of our kids decorate a little cardboard box to store our items in. Some years, we've missed a few days (or even the whole week!) because … well, life happens.? Now that my oldest two kids know how to read, we can add a few verses of Scripture after reading the children's Bible story version. The depth of understanding and conversation has changed as my kids have grown. But the simplicity and flexibility of the process has stayed the same.
Here are the stories and objects we've typically used, along with the Scripture references. I have found I like to read best from the Beginner's Bible, because the stories are short and straightforward for my young kids.
Story: The Triumphal Entry into Jerusalem (Mark 11:1-11, Beginner's Bible pg. 427-432)
Object: a palm leaf (either real or paper)
So far, my kids have always come home from Sunday School with some kind of palm leaf, which makes for a nice and easy start to our Easter Box? … and also leads to lots of parades and shouting of "Hosanna" throughout our house during the week leading up to Easter!?
Monday Story: Washing the Disciples Feet (John 13:1-15, Beginner's Bible pg. 437-439)
Object: a washcloth
In the toddler stage, especially, each of my kids have loved pretending to wash Mommy and Daddy's feet!
Tuesday Story: Passover/Last Supper (Luke 22:7-20, Beginner's Bible pg. 442-445)
Object: a piece of toy bread
Wednesday Story: Judas' Betrayal (Mark 14:10-11 & 43-46, Beginner's Bible pg. 446)
Object: a quarter to represent the 30 pieces of silver
This part of the story totally went over my kids' heads for years. They just had fun playing with a shiny coin. (Supervised to avoid any potential choking hazard.?) But, after years of just introducing this story, now my oldest son at least can understand some of what that betrayal really meant.
Thursday Story: Jesus' Arrest and Crown of Thorns (John 18:12 & 19:1-3, Beginner's Bible pg. 447-449)
Object: a tiny branch from one of our bushes with little prickles (nothing too sharp)
Friday Story: Crucifixion (Mark 15:33-39, Beginner's Bible pg. 450-452)
Object: a cross made of two craft sticks
Saturday Story: Burial (Mark 15:42-47, Beginner's Bible pg. 453)
Object: a rock to represent the stone in front of the tomb
Story: Resurrection (Luke 24:1-12, Beginner's Bible pg. 454-458)
Object: a picture that my kids colored in Sunday School
An easy item to put in the bin again for the end of the week.??
Our Easter Box has become a fun yearly tradition. My kids don't understand everything yet, but I know that I am planting seeds in their hearts. And they are having fun playing while we do it! I'm eager to see God help them understand more and more about the meaning of the Resurrection in the years to come.
What simple ways do you try to plant seeds of faith in your children's hearts about the Easter story?
?Katie
To read our original Easter post entitled, Unscrambling Easter: Teaching Kids the Importance without the Pressure, click here.
To read our original Easter post full of lots of Easter resources to help plant seeds about Jesus, click here.