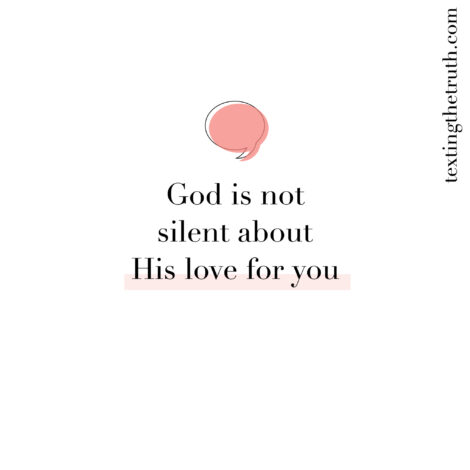 Happy Valentines' Day, Mamas! 
Every year I make sure to perform quality assurance tests on the Hershey and Dove chocolates that magically appear in my grocery cart.. ? I know, I'm such a good mom. 😉 
Have you seen any Instagram-worthy photos of red and pink bouquets in your newsfeed today? Sometimes it can be easy to want that attention for ourselves and then wonder why we didn't get that bouquet or that sweet card of flowery poetry. Is there something wrong with us? Insecurity can creep in when we focus on ourselves. 
In our post, What I Really Need to Hear on Valentine's Day, those wise ladies flipped the script from a focus on dissatisfaction to a focus on serving. While learning to focus on others, we can also look to God's heart when we feel that insecurity. 
Instead a single bouquet, He gave us hundreds of fields of flowers to admire and enjoy. Instead of a single gourmet meal, He invented hundreds of tasty delicacies to salivate over (#allthechocolate). Instead of a single meal with one fantastic view, God fashioned an entire world featuring colorful canyons, fast-moving rivers, vast oceans and towering mountains for us to explore. God has no limits and neither does the extent of His Love. 
Today you may not have a greeting card in your mailbox but you do have a whole book that tells you how much He loves you. God is not silent about His love for you. 
Author Philip Yancey says, "Sociologists have a theory of the looking-glass self: you become what the most important person in your life (wife, father, boss, etc.) thinks you are. How would my life change if I truly believed the Bible's astounding words about God's love for me, if I looked in the mirror and saw what God sees?"
Today may we open His love letter to us and savor His immense love for us. Better yet, do you have two minutes to do that right this moment? Check out John 3:16. Read it in two other Bible translation versions like The Message or NIV. Read it slowly; really take it in. Fill up on His love; it's less fattening and a lot more fulfilling than chocolate. 😉 
~Virginia