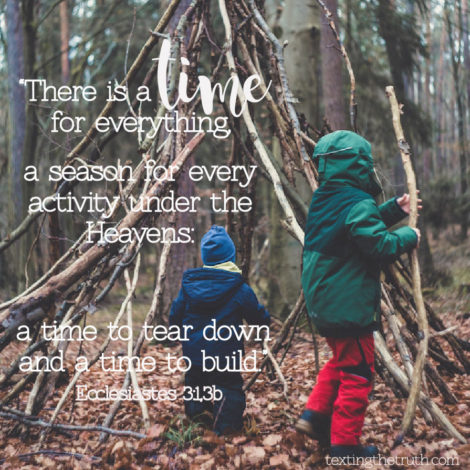 There's nothing like building a gigantic fort in the middle of the family room! Rainy days are perfect for this, and we had a long one just the other day. My three kids went straight to work pulling in chairs, couch cushions, blankets, pillows, and flashlights. They planned and stretched sheets together, sectioning off their "areas," and bringing in their snacks, books, and loveys.
Later that evening, we all came together in the family room to practice the piano and watch TV… but we couldn't do anything because of the crumbling fort. It went something like this:
My husband, Ryan: "Kids, it's time to tear down the fort and put it away."
Kids: "Nooooo! We can't do thaaaat!"
Ryan: "Yes. It's time. You've played with it the whole day."
Kids: "But we caaaaan't! It's the best fort we've ever made and we're still playing with it!"
Ryan: "It was a good fort, I know. But we need to use the family room for something else."
Kids: "Noooo! We love it! We'll never be able to make one like this again!"
Ryan: "Yes, you will. But for right now, we need to clean up and take care of our house."
You get the picture. Eventually, the fort was put away and we had a family room to use again.
I started thinking about how whiny my kids are, and how they don't obey the first time we ask. But in the middle of my sad thoughts, God whispered, This was you, over the past three years.
Well, ouch. The more I thought about it, the more I knew this was exactly true.
A little over three years ago, I found myself physically and spiritually cluttered. I had two jobs, two blogs, three kids, and a host of little volunteer positions. I had a hernia that I was ignoring, a relentless eye twitch, and I hadn't read a book for fun in years. Every time I started a Bible study, I couldn't put my full heart into it. I had too much on my plate. I had built fort upon fort upon fort. I like to think I was a "fort collector," but that's what all the hoarders say. ?
And my "forts" were GOOD! They were all good and beautiful things. But now (looking back) I know that God was asking me to tear them down. And I didn't want to. I remember crying to a mentor of mine, saying, "I just don't know what to give up. I know it's too much, but I love all of these things that I'm doing."
So for a year, I maintained all of the "forts" I had up, squished in together, falling apart in some places, but still there. The thought of tearing down a fort that you love is painful and scary. My thoughts were just like my kids' thoughts: But I still love this. But I'll never be able to build this again. And one even deeper, more adult thought: But this is part of who I am. Who am I without this?
These kinds of thoughts can stop you dead in your tracks.
However, in my efforts to take care of my forts and my family, I didn't have any time to devote to taking care of myself.
I've been studying the book of Joshua, and it's like "Journey to the Promised Land, Take Two." Moses has died, and God has called Joshua to take over and lead the people into the Promised Land after so many years of wandering. God says it is time to move on. He gives Joshua specific instructions about when and where to go, stop, or linger. It is a perfect example of how God leads His people.
God promises to be with them and fight mightily and make miracles happen, but their job is to inquire, listen, and then act on it in obedience. When he says fight, they are to fight. When he says tear down, they are to tear down. When they are to build up, they are to build up. There is a time for everything, and the Lord is telling them what time it is.
I often say, "God's timing is perfect." But do I really believe it? It's hard to act on it when He's nudging me to tear something down, or build something new, or take on an intimidating battle or journey, like He did with the Israelites. I wonder if they were tempted to settle right there on the east side of the Jordan, and not fight any more battles. I bet they would have had a good, fine life. But God said, "I have another plan. It's the BEST plan. Will you follow me and trust me?"
Over the next two years of my life, I slowly tore down my forts, one at a time. I sought confirmation from the Lord again and again, to make sure this was right. And He patiently said yes. I can imagine standing next to my kids for THREE YEARS, waiting for them to take down a gigantic fort. I would lose my mind! Ha. ? Fortunately, God is much more patient than I am.
Here I am, with only one fort still left (this blog!), and one new fort. Yes, there is room for something NEW to be built! I am taking better care of my body and spirit these days. I can read an entire book. I'm doing a Bible study with my whole heart invested. I feel like, in a way, the thing that is being built up is me.
I'd like to leave you with these words. Read them slowly and let them sink into your soul:
You are worth being built up.
The time it takes to build into you is a good investment.
God honors what you've given out of your emptiness.
"Now he's using you, fitting you in brick by brick, stone by stone, with Christ Jesus as the cornerstone that holds all the parts together. We see it taking shape day after day…" (Ephesians 2:22, MSG)

?Anna

Soaking in the Truth
Scripture to encourage you:

"There is a time for everything, and a season for every activity under the heavens: a time to be tear down and a time to build," (Ecclesiastes 3:1, 3b, NIV)

"He has made everything beautiful in its time.  He has also set eternity in the human heart; yet no one can fathom what God has done from beginning to end." (Ecclesiastes 3:11, NIV)

"For he satisfies the thirsty and fills the hungry with good things." (Psalm 107: 9, NIV)

"

And in him you too are being built together to become a dwelling in which God lives by his Spirit." (Ephesians 2:22, NIV)

"I have come that they may have life, and have it to the full." (John 10:10, NIV)
Music to inspire you:
Readings and Resources to come alongside of you:
Related Posts on Texting The Truth:
Not So "Quiet Time"




---

Living Out the Truth

Ideas to try:

Do an inventory of your "forts." Ask God to show you if there are any that need to be taken down. Maybe a fort needs to stay in your house, but not in your living room.  Maybe a fort needs so major maintenance to be salvaged. Maybe there's a fort that you need build.

Like Joshua

, let God lead you through your "house" to find out what needs to be torn down and what needs to be built up in you.  

As a mom, I feel like it's an ever-present challenge to take care of myself. My children are one massive fort that obviously needs to stay put and be continually maintained.

I can't do everything

, however, I can section off a space in my "family room" with bright-orange caution tape for just self-care. That's not being selfish; it's actually making me a

better

mom.

This was a

very hard

new habit for me to develop. I'm still working on it. Here's how I got started:

I talked to a couple people

that I trusted about how I was feeling–first, my mom and my husband, then some trusted friends.

I thought and prayed about what things in my life were draining me.

I slowly stepped away from those things. It was not without some tears, but I felt a huge sense of relief afterward.

I started looking for little pockets of time

that I could steal away for myself, like:
an early morning coffee and reading/writing time alone on a Saturday morning,
a 30-minute walk after dinner, or


a shopping trip by myself.

I started allowing myself to not feel guilty

about going out with girlfriends for a breakfast or dinner, and leaving my family at home for a little bit.

I read

5-Minute Retreats for Moms

. There are tons of ideas in there!

The next time I took the kids to the library,

I picked out a fiction book for myself

.

I made doctor's appointments for myself

that were long overdue. I bought myself vitamins and started taking them regularly.

I found moms to carpool with

so I wasn't spending all my time driving.

In

Organizing You

, Shannon suggests that you take one day per week that you do not clean the house or run errands — instead, it is "You Day." (Don't you just love the sound of that?!) She says, "This is the day to set aside some time…to work on things that aren't so repetitive… You need to schedule some time for things that fill you up and give you joy in the Lord," (pg 95-97).

Swap a day of the week with another mom — maybe she wants an hour to herself too! Or find a teenage neighbor to babysit the kids for two hours a week. Join the Y and take your kids to Child Watch. Be creative to find that self-care time.

{These suggestions are ideas from novice moms. Sometimes our life situations need more. In that case, seeking out professional help is the right call.}