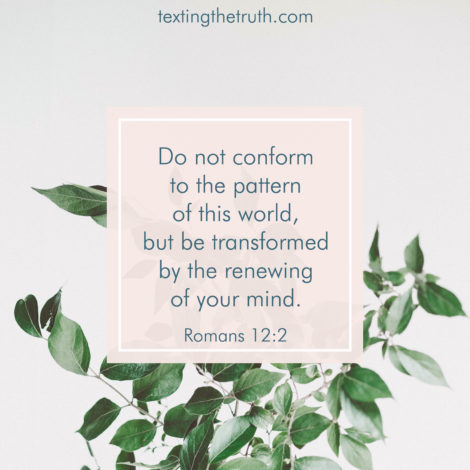 I am convinced that in each person there are specific places that we all desire freedom but that sin keeps returning and it feels like it seems like we'll never overcome.
I've struggled with "disordered eating" since my teens. Disordered eating is essentially having an unhealthy relationship with food, without a specific diagnosis such as bulimia. I have spent years feeling shame for which foods or how much food I've eaten.
There's a quote in this week's post by Desi: "I keep saying, 'Here, Lord. Grow this because I certainly can't do it on my own!'": (Read the rest of this awesome post here!)
That's an excellent prayer! And did you know that's exactly what God wants to do in you??
Romans 12:2 NIV says, "Do not conform to the pattern of this world, but be transformed by the renewing of your mind."
Until last year, I didn't get that phrase. I understood but I had never experienced it.
I LOVE the New Life Version of Romans 12:2:
"Do not act like the sinful people of the world. Let God change your life. First of all, let Him give you a new mind. Then you will know what God wants you to do. And the things you do will be good and pleasing and perfect."
Isn't that amazing? I don't give God enough credit. I complain that I don't know what He wants from me. I become confused and ask God for clarity and yet I don't work on thinking the way He thinks.
Let's be clear: God can and does give us a new mind immediately that is complete in Christ. He doesn't see our sinful habits when He looks at us. However, it is our responsibility to keep maintaining that mindset by reading His Word and squashing any thoughts and behaviors that don't line up for the new person he wants us to be. It can be a slow process and you need to be in a teachable place. However, remember that God aches for you to live in freedom, especially in those places we feel so defeated.
After doing a book study about disordered eating I was able to develop a godly mindset about food and finally felt free in an area I deemed freedom to be impossible.
Mama, don't let your mind be swept away by your gut reactions and your lack of energy. Take care of your body and mind so that you can serve and teach your children. May we humble enough to allow God to use our struggles whether it's selfishness or frustration to lead us to the One who can give us a new mind.
? Virginia
P.S. If you struggle with food and body issues, I highly recommend Truly Fed by Gari Meachem (find it on Amazon here.)