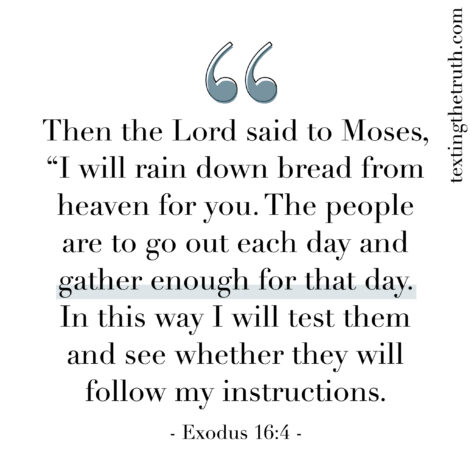 One of my priorities during the quarantine is physical activity in any form. When the sun makes an appearance, I want to take advantage! But, sometimes I struggle with letting go of my agenda. For example, I was really struggling with wanting my kids to get outside and enjoy the sunshine but they were completely content playing with a giant cardboard box in the basement. As seems to be the theme for the season, I was getting a little anxious when they did not bend to my agenda. Lately God has revealed to me that I've been trying to hoard something that can't be saved. 
The Israelites were commanded by God to collect manna, His provision, each day, but just enough for that one day. Moses advised them, "'No one is to keep any of it until morning," (Exodus 16:19 NIV). Unfortunately, not everyone obeyed. Those who forgot the rule or intentionally kept the manna until dawn found that it was rotten and "full of maggots." Well, that escalated quickly!
Before the Biblical version of "Cloudy With a Chance of Meatballs" took place, God's people complained, "If only we had died by the Lord's hand in Egypt!" They were looking back longingly and romanticizing some ugly circumstances. I'm thinking God's trying to tell us to pay attention to the present. 
Although I am a former teacher, I did not choose to homeschool until it was placed in my lap. I can complain and be bitter that I no longer have the freedom I once had; that is certainly an option and I did that a lot initially. All feelings are valid, but does that bitterness continue to nourish my soul? 
Instead, I can learn to thank God for the opportunity to be with my children. I can be present and focus on my own version of "just enough for each day." I can learn to savor the moments that we have because we've been forced to slow down. Just yesterday my son gave me a random hug, kiss and an "I love you" which I don't think would have happened on a busy school day. 
You may have been called to add homeschooling or other responsibilities to your resumė during this season. You were already stressed with your prior schedule, but now, you're overwhelmed. May I challenge you to breathe and look up? Maybe your manna was a sweet exchange between your kids, or a delicious meal cooked by your husband, or a hot shower you found time to take, or the blooming daffodils in your yard, or one Common Core math lesson that you finally taught, or the mercy that you received as the day comes to an end.  
Go ahead; take a look. What manna has God provided for you today? 
Love from Virginia
#textingthetruthblog #manna #newmercies #findthegood #realmomsrealgrace #Coronavirus2020 #trynottohoard #gatherjustenough #mannafromheaven #liveinthemoment
Resource to Come Alongside You: 
www.unite714.com During the COVID-19 pestilence, it is comforting to know we can be a part of the prayers of the global church. 
Truth to Inhale: 
His Grace is Sufficient for Me by Jennifer Knapp 
Do it Again by Elevation Worship 
Still by Amanda Cook 
Soaking in the Truth: 
God said to Moses, "I'm going to rain bread down from the skies for you. The people will go out and gather each day's ration. I'm going to test them to see if they'll live according to my Teaching or not. On the sixth day, when they prepare what they have gathered, it will turn out to be twice as much as their daily ration." Exodus 16:4, MSG  
No one is to keep any of it until morning. Exodus 16:19, NIV
If my people who are called by my name will humble themselves, and pray and seek my face, and turn from their wicked ways, then I will hear from Heaven, and forgive their sin and heal their land. 2 Chronicles 7:14, NKJV 
But He said to me, "My grace is sufficient for you, for my power is made perfect in weakness." Therefore I will boast all the more gladly about my weaknesses, so that Christ's power may rest on me. 2 Corinthians 12:9, NIV