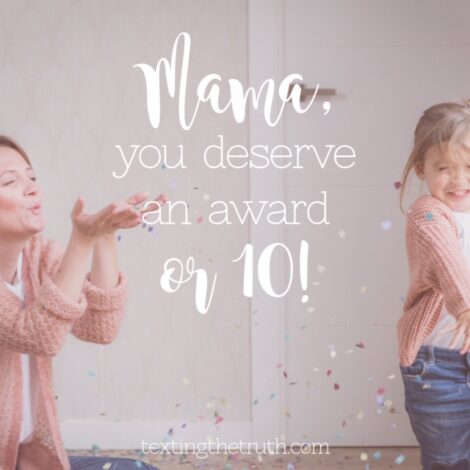 Well, Mamas, we are in the home stretch. Hopefully, homeschooling is coming to a close and you're seeing a bright spot of relief as we head into summer break. You've accomplished so much! 
Can you take a moment to celebrate all that you've been able to do the past couple of months? Sometimes I can get bogged down with regrets and missteps. "I should have read with him more." "I should have made her complete more writing assignments." "I should have had a better attitude about being my child's teacher." 
Girlfriend, it's time to ditch the "should've's." Insert your name in this statement: "I, ______,  am very proud of myself because I have ________ while also _______ and even______! I am a good mom." 
Not convinced? Cue the flashback sequence…
Remember when you were in Girl Scouts? You had that forest green polyester sash and you couldn't wait to adorn it with those scratchy patches. I haven't even glanced at a Girl Scout Cookie order form in decades — I truly have no self control when it comes to Samoas! But have you checked the Girl Scouts' site recently? There are so many updated achievement badges!
Check out this handy list to see what badges you've earned in Motherhood. (Note: The badge names and my respect for the Girl Scouts of America are real. The descriptions are not.)
You have changed the shavings in the hamster cage in your son's room or fed a frozen mouse to an extremely large reptile: Animal Habitats Badge!
You've spent half of your waking hours of the day simply keeping your kids from endangering themselves: Safety Award!
You just scored some summer hand-me-downs from another mom friend: Savvy Shopper Badge!
You walked around the entire first floor of your house among dozens of toys without injuring yourself: Trail Adventure Badge!
That time you ascended an indoor playground twisty slide to bring your toddler back down to solid ground: Climbing Adventure Badge!
Your back hurts from sleeping on a pile of pillows while sleep training your toddler in his room: Camper Badge!
You took less than 25 snapshots to get a decent family photo: Digital Photographer Badge!
You effectively reduced screen time while homeschooling: Entertainment Technology Badge!
You attempted to sketch a dog but your child pointed out, "That looks like a horse, Mom,": Drawing Badge!
You found your keys and wallet again: Geocacher Badge!
You know where that fine line exists between kissing the boo-boo and calling for an ambulance: First Aid Badge! 
That sweet baby called forth all of your musical and vocal skills to FINALLY be put to sleep: Musician Badge!
You just prepared grilled cheese cut into triangles for your daughter and rectangles for her older sister: Simple Meals Badge!
You brought yourself to the edge of your sanity by hosting a sleepover with ten 11-year-olds: Social Butterfly Badge!
You just figured out Facebook Messenger Kids about 5 minutes ago and you already changed the password twice: Cybersecurity Basics Badge!
Someone is not telling the truth, and the wall didn't write it on itself, and the dog doesn't have opposable thumbs: Detective Badge!
Someone's got to turn on the Roomba: Programming Robotics Badge!
When you catch yourself rehearsing your regrets, take a moment and remember this encouraging verse from Psalm 139:14 NIV: "I praise you because I am fearfully and wonderfully made; your works are wonderful, I know that full well."
Because these sentences are close together, I take that God's personal Hand in creating us is an example of His Wonderful Works. That's great news! You were made with and for a purpose! It's time to pin on your own Mommy Merit Badge or two (or all of them), because you deserve it! 
~Virginia
#Coronavirus #Quarantine2020 #textingthetruthblog #realmomsrealgrace #meritbadges #GirlScouts