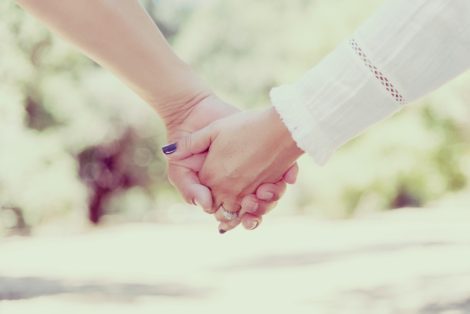 "Where do you want to go for lunch?" I asked my husband, who was driving our van with all three kids in tow.
"How about Arby's?" he answered.
"Naa… I don't think so. The kids don't usually eat there. Let's just go to Wendy's."
My husband suddenly looked a little put-out. What had I done? Weren't we just having a casual conversation?
Fast-forward a couple months. We're driving again — this time on a long trip. Every so often at Texting the Truth we like to ask our hubbies questions that guide us on blog posts. We've been hashing out this #bemomstrong theme; so I asked him, "What makes a strong wife?"
And he had a lot to say. Not in a negative or criticizing way — just in a "I have a clear answer for that" kind of way.
He said that a strong wife is supportive. This is what that means to him:
When she asks for his opinion, she really listens to it.

When he has an idea, she respects it.

When he says something in private or public, she doesn't make him look stupid by laughing or contradicting him.

When he needs it, she encourages him, even if she really thinks he kinda messed up.
And here's the kicker: He said it's just as important to do this in the little things, as in the big things.
And suddenly the dejectedness following the question of where to go for lunch made sense. Because I used to do that all the time — ask him a question, and then decide against it. I didn't think it was a big deal, but it had added up.
When a woman supports her man in this way, she's saying, "I think you're wise. I think you're smart. I trust you." The best part is that through that simple thing, she's building him up — strengthening him. In turn, it strengthens their overall relationship.
I'm still catching myself thinking my way or my idea is better than his. But after respecting his ideas, I've learned that his ideas are often brilliant — things I never would have come up with. This has been especially true in tough parenting situations. Before, I would have seen a problem happening with one of our children and come to him with my very well-laid out plan, expecting him to JUMP on board and be all for it. Instead, now I come to him with the problem I'm seeing, and then ask, "What do you think we should do?"
Now, this is not to say that we don't go back and forth, hashing it out together. He wants to hear my opinion and ideas too. It just means that I'm now asking AND respecting his ideas, even when it's not the way I would have gone.
But guess what? Our children are not all me. They are half him. So sometimes, the way he would approach things or explain things actually makes MORE sense to them because they are like him.
God really knew what He was doing when he put two very different people together and called them "one." And after 17 years, I'm still learning and tweaking this "one" thing. But it's pretty awesome to see it grow.
Maybe the best gift you can give your husband this year for Father's Day is just to ask his opinion and really listen.
~By Anna Brink
To read more about Anna, click here.
---


Soaking in the Truth
Scripture to encourage you:
Ephesians 5:31:

"Therefore a man shall leave his father and mother and hold fast to his wife, and the two shall become one flesh."

Ecclesiastes 4:12: "Though one may be overpowered, two can defend themselves. A cord of three strands is not quickly broken."

Romans 12:10: "Be devoted to one another in love. Honor one another above yourselves."

Proverbs 31:10: "An excellent wife who can find? She is far more precious than jewels. The heart of her husband trusts in her, and he will have no lack of gain. She does him good, and not harm, all the days of her life."

Ecclesiastes 4:9-11: "

Two are better than one, because they have a good reward for their toil. For if they fall, one will lift up his fellow. But woe to him who is alone when he falls and has not another to lift him up! Again, if two lie together, they keep warm, but how can one keep warm alone?"


---

Readings and Resources to come alongside of you:
---
Related Posts on Texting The Truth:
Other #bemomstrong posts: Finding Identity in Our Maker


---


Living Out the Truth

Ideas to try:

Try asking your hubby where he wants to eat dinner next time you're out, and actually go there. ?

Ask your husband a question about how to solve a parenting or work-related issue. Respond with thanks, especially after you've tried the idea.

Praise your hubby in front of other people.

One of the sweetest sentences a person can hear is, "You know what, I think you are right about that." Try that on your husband the next time he gives his opinion.

When your opinions differ, check your body language and tone. Facial expressions can say a lot. Just by the tone of your voice, you can accidentally communicate, "That is stupid." Or, you can communicate, "That's interesting and valid. I have another point of view though."
---
{These suggestions are ideas from novice moms. Sometimes our life situations need more. In that case, seeking out professional help is the right call.}