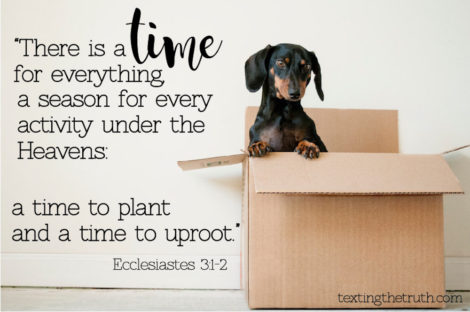 In my adult life, I have been uprooted several times.  Recently, we moved for our work from Illinois to Florida for a year.  I can now say I have had driver's licenses in five states.
There is some joyful recollection, but also some quiet mourning as I often wonder what it would be like to stay in one place for a long time.  What would it be like to be really known in a community? To have your name on a park bench when you pass away because you made such a significant impact on the people of that community.
And yet I know that moving around doesn't mean that I don't have an opportunity to form significant relationships–it just looks different and takes a different kind of investment.  We specialize in getting to know people deeply in a shorter amount of time.
During the goodbye party for one of our past moves, a friend gave me a small plaque that said, "Bloom where you're planted."  
It sounds lovely, but we are only one month into this most recent move and the honeymoon phase has slid into, "Oh my goodness, what did I get myself and my family into?!"  I feel like a transplanted plant because plants often go through shock when they are moved from one garden space to another. They need a lot of extra care to make the transition to their new place.  And sometimes before they are transplanted, they sit in a pot–waiting for the gardener to prepare their new home.
I feel like the plant sitting in the pot, waiting. I need extra water.  I need to be shielded from too much sunlight. I need some fertilizer to strengthen me through the transition.  That sounds easy when thinking about a plant. But when I think about myself (and my three kids and husband), I realize that the extra things we need are a form of soul care.  
We need time for our souls to catch up to our bodies.  To start rooting in the new soil. We need grace and acceptance to show our stress–like a plant that often wilts during the first days of a transplant.  We need to maintain simple traditions and rhythms–things we can bring with us to our new place. We need to have fun, to find the warmth and joy of the sunshine in our new place.  We need to trust God who led us into this transition. A faith that He is the Master Gardener who will attend to our needs. He will not leave us on the patio to wither, dry up, and die. His desire is for us to flourish.
During this transition, I have thought about the ancient Israelites journeying through the wilderness with Moses as their leader.  God miraculously and powerfully delivered them from the hands of Pharaoh, yet multiple times they accused God of leading them into the wilderness to die of starvation and dehydration.  
Their lack of faith angered God.  Moses demonstrated the faith the Israelites lacked when he boldly and candidly talked to God.  He reminded God of His plans and promises to transplant and transform these Israelite refugees wandering in the desert into a great nation that would reveal Him to the world!
As a follower of Jesus, I am grafted into the family and these promises also.   God has good plans for me and my family. He did not transplant us to the ninety degree heat to let us wilt and die.  And so with that in mind, I need to also trust Him to provide for the big and little things that will nourish my soul and strengthen my roots during this transition.  And those of my family.
Before this temporary, move a friend gave me a sign that reads, "Wherever you go, go with all your heart."
Oh God, strengthen my heart so that I can be wholeheartedly here and partake of what You have for me.  Gardeners transplant plants so they have the space and growing conditions to spread, multiply, and increase in size and fruitfulness. This is our desire too!
Whether He transplants us across the street or across the country, we can trust the Master Gardener who leads us into new seasons of transition and growth.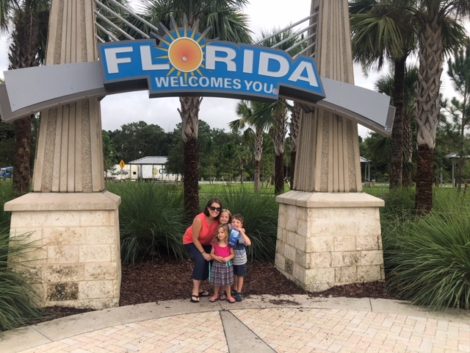 ?Written by Courtnee White

Soaking in the Truth
Scripture to encourage you:
"There is a time for everything, and a season for every activity under the heavens: a time to be born and a time to die," (Ecclesiastes 3:1-2a, NIV)

"He has made everything beautiful in its time.  He has also set eternity in the human heart; yet no one can fathom what God has done from beginning to end." (Ecclesiastes 3:11, NIV)

"I am the true vine, and my Father is the gardener. He cuts off every branch in me that bears no fruit, while every branch that does bear fruit he prunes so that it will be even more fruitful." (John 15:1, NIV)


---
Music to inspire you:
Readings and Resources to come alongside of you:
After the Boxes are Unpacked by Susan Miller – I haven't done this study, but I have heard from many women that it is such a helpful resource if you have currently moved!

If you are curious about the Exodus story I alluded to, you can read these three "Facetime" conversations that Moses had with God during the Golden Calf incident and following many waves of disobedience and grumbling from the Israelites.  

Exodus 32:7-14: "An intimate exchange: Two friends talking about what to do"

Exodus 32:31-33:6: "So Moses returned to the Lord and said…"

Exodus 33:7-11: "God speaks to Moses face to face, as a man speaks to his friend"

Also, If you have never read the entire story of the Israelites' journey from Egypt to the Promised Land, consider putting it on your Bible reading bucket list (mainly the books of Exodus, Deuteronomy and Joshua).  Seriously not boring sections of the Old Testament–they read like a Netflix drama with some comedy mixed in! Reading them out loud is even more captivating!


---
Related Posts on Texting The Truth:

Living Out the Truth
Ideas to try:
You may not have moved, but maybe you need to consider what needs to be uprooted in your life. Are there habits that need to be weeded out? Ask God what He wants you to uproot so that you can plant things that bring vibrant life.

The seasons of a person's life are not always marked by a geographic move.  Staying in the same place requires steps of faith, also. My friend's husband just went through a process to decide if he should change jobs which would require a geographic move.  God led him to stay. The decision process

and

the staying are leading them into a new season of life right where they are.  

How has God worked in your life to lead you into a new season of life, and/or growth and dependence upon Him?  Try making a map of your life: as you look back can you mark off specific seasons? You might use these 5 H's to help:  Heritage (family), High Times, Hard Times, Heroes, Hand of God.
Pray a prayer of surrender.

 I recently heard a woman speak who has been greatly used by God through the past 50 years of her adult life.  She told a story about being a young woman sitting outside looking at a beautiful landscape at the ministry headquarters where God had called her to work.  She was amazed at the things God was doing through this new ministry and that she got to be a part of it. She asked the Lord, "Why me, Lord? Why do I get to do these things?  Why are you using me?" And he answered, "Because you said, 'yes.'" I (Courtnee) felt deeply challenged and encouraged to surrender my heart (continually) to God and His will, not my own plans and ambitions.  And then, when I was sharing about how this story impacted me, I was asked a powerful question which I want to share with you:

"What if this year you only did what God wanted to do through you?"

 (Huh, you might be thinking?  That was my response.) You may also think that the "only" part sounds so little, so much less than what you want to accomplish.  You've got plans. Ambitions. But I think the "only" actually guards the sacred in that question rather than minimizes it. So what if this year you ONLY did what God wanted to do through you?
---
{These suggestions are ideas from novice moms. Sometimes our life situations need more. In that case, seeking out professional help is the right call.}