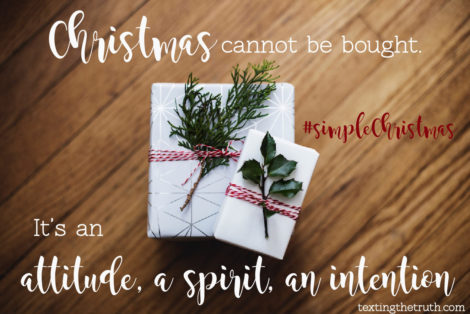 One of my favorite lines from the original Grinch movie is, "Maybe Christmas, he thought…doesn't come from a store. Maybe Christmas, perhaps…means a little bit more!"  When I start milling about town shopping for presents, decorations, and food for gatherings, it is easy to think I have to prove my love with the just right "stuff" and experiences for my people. I even get discouraged thinking I have to do more, be more.  The truth is, most of my son's presents are under the tree already, and he barely brings them up — he wants more than anything for me to simply play or watch his choice of movies with him, fully engaged in the moment. And if I am doing something holiday-related, he simply wants to help me or be next to me.
We all mean well with our fussing over trying to create a Christmas to remember.  God knows our heart in doing all the "right" traditions. I mess up shopping for Christmas when I apply pressure to myself or others for doing as I please rather than how God intended this season to be.  We have a sign in our kitchen that says, "Prayer is less about changing the world and more about changing ourselves." With just a few weeks until Christmas, that sign took on a new meaning for me. Instead of trying to tame the chaos and make everyone and everything behave around me (even praying for peace and calm!), I probably need to pray for the calm, peace, and right attitude to start with me.
Striving for perfection might impress a few people on social media and fool some acquaintances, but it usually just leads to a meaningless fight with my husband, a few tears, and a collapse into my bed.  When I end up defeated, I feel like a fool. And then, when I slow down long enough to simply pray for forgiveness, I am continually amazed by God's grace. I feel cleaner, softer, and a little more — dare I say it? — jolly.  I feel like I can really pray for people as I wrap their gifts or address their cards. I feel like I have the strength and patience to bake cookies and actually let my son help me with Christmas.
When I try to shop or go through the Christmas motions with a clenched jaw, I am really just trying to cover up some less-than-picture-perfect feelings of hurt and fear.  Truth: More activities, more gifts, or bigger expectations will not hide my hurt and fear from God. He already knows I am carrying around hurt from fresh grief and fear of inadequacy.  I am not sure what you are carrying around in your purse as you shop for Christmas this year, but I encourage you to pray through it. All you are doing is shopping for goods from stores; you already have the best deal around if you carry the love of God with you. He can gift us a simple Christmas that isn't wrapped up in the false expectations and social media gloss version of it all. As simple and cliche as it sounds, I need this reminder:  Christmas cannot be bought. It's an attitude, a spirit, an intention.
Lord, help me stop and pray for an attitude adjustment the moment I find myself getting hyper over added expectations at Christmas.  I want to model a jolly, excited spirit at Christmastime; I need your strength and Holy Spirit to do that, Lord. Keep my intentions pure as I encounter Christmas.  Thank you for knowing the dark parts of my heart and loving me through them.
And finally, as moms we might want to add these simple truths to our shopping list this Christmas:
Your people simply want you for Christmas.
God is pleased with our intentions.
He knows the depths of our hearts, even if we don't talk about it.
It is okay to keep Christmas simple.
?Jo Perkins

Soaking in the Truth
Scripture to encourage you:
"For the Lord sees not as man sees: man looks on the outward appearance, but

the Lord looks on the heart.

" 1 Samuel 16:7, English Standard Version (ESV)

"Be anxious for nothing, but in everything by prayer and supplication with thanksgiving

let your requests be made known to God.

" Philippians 4:6, New American Standard Version (NASV)

"For I am persuaded that neither death, nor life, nor angels, nor principalities, nor powers, nor things present, nor things to come,

nor height, nor depth, nor any other creature, shall be able to separate us from the love of God

, which is in Christ Jesus our Lord." Romans 8:38-39, King James Version (KJV)
Music to inspire you:
Lauren Daigle's

"Light of the World"

"A child prays for peace on Earth, and she's calling out from a sea of hurt. Oh come, oh come, Emmanuel. And can you hear the angels singing glory to the light of the world? Glory, the light of the world is here."

Dolly Parton & Kenny Rogers'

"The Greatest Gift of All"

"Knowing you're in love with me is the greatest gift of all…. So I say a silent prayer for creatures great and small. Peace on Earth, good will to men is the greatest gift of all."
Readings and Resources to come alongside of you:
This YouTube channel has short devotionals for kids:

JellyTelly

. In the hustle bustle of the season, these short videos can center us as a family.

If you do not follow ParentCue on socials, they are so helpful during this time of year with reminders and scripture.

www.theparentcue.org

Josh and Christi Straub's In This Together podcast is good for encouragement in marriage and parenting, but their most recent episode is timely and helpful for #simpleChristmas.  This is a

re-released Christmastime episode

where Dr. Josh & Christi tackle questions such as:

Is my gift-giving out of control?

What does an entitled child look like?

What will my kids really remember about Christmas?

How can we truly make it about Jesus's birth?

Is the attitude I am modeling gratitude or grumbling?
Related Posts on Texting The Truth:

Living Out the Truth
Ideas to try:
Have you heard this poem to remind you about how to shop for gifts? Everyone should get "something they want, something they need, something to wear, something to read." There is a free app called Wunderlist that can be shared with others too.  It makes a glorious ding sound whenever something is completed.

To save time and make it simpler for myself, I have started choosing a particular kind of wrapping paper for each person or family, so I do not have to write gift tags on every single gift.  Then I make piles for each group under the tree.

At our house, because our son is five he still likes the thrill of opening lots of presents (no matter how small), I wrap even the smallest pack of markers by itself.  However, the limit is 12 gifts, after the 12 days of Christmas. Also, we have Santa bring 3 gifts, and we connect it to the 3 gifts the wise men brought Jesus.
Treasured Products we love:
This is free, but it can be helpful. To help relatives who do not always know what's "in" with kids, you can make an Amazon wish list for free and text relatives the link. That way kids have something to open rather than just gift cards or cash — of course, all gifts are wonderful, and money always fits and never goes out of style.  

Sarah Young's Jesus Calling devotionals

are on Amazon — written in such a personal way, friends and family members will be endeared to read these. They are not written in "Christianese."

Don't forget our special offers from Lisa Langenhop. She is running a special just for the readers of Texting the Truth! ?It is the perfect gift for your moms, aunts, friends, teachers, you name it! Message from Lisa:  I'm offering a 20% discount on anything in

my etsy shop

– including

the

2019 Bible Verse Calendar

! The discount is live until Dec. 15th at the deadline for Christmas delivery. Use code TEXTINGTHETRUTH20 at checkout.
{These suggestions are ideas from novice moms. Sometimes our life situations need more. In that case, seeking out professional help is the right call.}