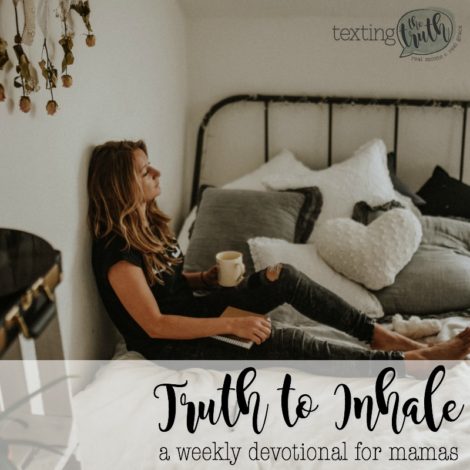 Mamas, I totally fell asleep writing this post last night.  I promised the group I was so ready to write, and I missed it so much, and then, much like all of you, dear readers, life got in the way.  I have not gotten home earlier than 9:00 pm the last three nights. Ladies, it is May. Even if you don't work in a school like I do, if you have school-aged children, you know May is just as busy as December, except there are zero twinkle lights or presents! In my case, I am eating the same amount of chocolate though. How about you?
So for today's Truth to Inhale, I want to echo how important it is for us to breathe in God's truths in the middle of the chaos as mamas.  At Christmastime, we wrote about simplifying our season to just Jesus. Well, Mamas, lately I have had to dig deep and hang onto the love of Jesus in this season of growth for my family.  Even if you are experiencing great blessing, the whir of the responsibilities can be overwhelming. I started a new job as an assistant principal of a middle school in January, and it has been a non-stop marathon since. Seasons like this lead to me falling sound asleep without saying goodnight to anyone or plugging in any of my devices to charge.  Life can be so good, but it can really drain us if we are not careful.
Don't mistake me… Yay! New job! Great paycheck! July off! But oh boy, those late nights take a toll on my son. I have to intentionally make time for him and do special treats and outings so he does not resent my new position. Have you been there too?
I wrote a post-it and put it where my right palm rests as I work and type during the day.  It is Hebrews 4:16, which reads, "Let us come boldly to the throne of GRACE, that we may obtain MERCY and find grace in our time of need."  Mamas, a time of "plenty" is also a time of need.
I know many of you are in a season like us. Maybe you have a new baby. Maybe you or your spouse has a new job? Maybe like Michelle and Jen you are in the middle of moving.   These seasons of plenty can often create natural distances from space to think and pray. The exhaustion of it makes my heart grow weary for just Jesus. How about you? Do you long for that closeness and simplicity in your heart?
On Monday, Michelle and Anna posted about why we took a hiatus for Lent and our new perspective.  They shared how we all needed a little break, and we are ready to gear up again with a fresh way to approach our community.  Anna said, "I think it's good to not necessarily chuck the whole thing out, but to look at what parts of it work for us, and what works against us."  I had to read that sentence three times to let it really take hold in my heart. Her words apply not only to our TtT community, but our roles as Mamas.  
As moms, we are used to having zero space — literally and metaphorically.  We eat with people on our laps. We sleep with people breathing on us and touching us.  We even go to the bathroom with an audience. So when time and circumstances allow you some space, how do you even know where to begin?  For me, I find myself noticing how slowly time goes by. I start to savor more details than usual.
On Mother's Day, my dishwasher went out, and when I did my first full double-sink load of dishes by hand in a long time, I was given new space and time I had to devote to dishes and nothing else.  With soapy hands, you really focus on the task at hand and nothing else. Maybe God wants us this way: captive to only Him as he washes us clean.
As soon as I get space alone, I miss my people.  I asked if I could get a mani-pedi on Friday night for Mother's Day, and about ten minutes into my pedicure, I sorely missed my boys: my husband and my son.  There is truth to inhale here too: as Mamas, it is okay to give yourself some space to think and pray, so we can be reminded of who we love and why we love them.
And you know what, how will they ever miss us if we never go away?  I love those big hugs and kisses and getting my toe stubbed from big feet when I rush in the door after being away.
Another way we want to come alongside you, Mamas, is to be champions for each other by sharing our lives as #realmoms giving #realgrace.  As Michelle said, "We all need to receive and give real grace to ourselves, our kids, and other mamas. The more ways we can do that, the better."  
One small shift during Lent was posting less on social media as the TtT community, but as mamas we also tried to do more of a social media fast personally as well.  I tried too, but I failed miserably. My weakness is the evening mindless scroll and then getting down in the dumps when I compare my takeout or easy meals, my selfies instead of professional family photos, and my stalled weight loss rather than others' incredible steady loss. It's so unhealthy for my mind, and it is anything but a Just Jesus simple perspective.  So today, I need real grace. I need to just admit I am tired and go to bed. I need to put my phone away and get down on the floor and play Legos instead of perching myself on the couch and putting on the iPad for my son. But not every day. It's okay if we need a break sometimes.
So here I am this morning with my low pony full of Aveda Shampure dry shampoo. TGIF, Mamas.  This weekend is going to be all about the pool as a family, a friend's birthday, church, and doing dishes by hand.  Most of all, I encourage you to boldly come to the throne of grace in prayer as you think back over this week.
Let us all find mercy from God's love and acceptance; we hope you feel us as the TtT community wrapping around you in real grace as we lean into our new format too.
Jo Perkins